TRAVEL HEALTH
When trips visit remote areas or developing countries, we normally recommend immunisation against typhoid, tetanus, polio and hepatitis A. Malarial prophylaxis should also be taken in some areas. Cholera vaccinations are not officially required by any country. However, in practice, a cholera vaccination certificate may be asked for by border officials when arriving from, or travelling into, an infected area: especially at land borders. Make sure you obtain the protective vaccinations necessary for the countries you will be visiting.
TRAVEL INSURANCE
You never think you need it, until you do. Travel medical insurance is mandatory. If you're really worried about the safety of yourself and your gear while you travel, you can almost completely relax if you have some good insurance. Everyone should carry some kind of health and property insurance when traveling. The recommendations are 1Cover, AXA, World Nomads, Cover More, Travel Guard, Allianz Insurance... for short-term travel insurance (less than 6 months). They make it super easy to buy online.
TRAVEL SAFETY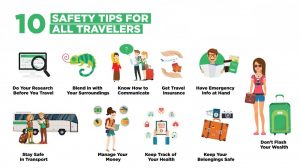 Customer and staff safety is the single most important factor in everything that Asia Dream Tours does. We always consider the safety of our tours, and have extremely experienced Senior Management and Operations teams who know intimately the countries in which we operate. We monitor and assess the threats operating in every country as an integral part of our work. But things can happen, we highly appreciate your cooperation when travelling:
– Write Down Emergency Info: If things happen, you might not have time to search for numbers for local police or ambulance services, or directions to the nearest embassy for your country. You may also be too stressed and panicky to think straight. Don't put yourself in that position. Instead, record that information in advance, we recommend you write it down on a small card or sheet of paper and keep it in your wallet/purse.
– Lock Up Your Valuables: Putting aside the fact that traveling with anything super valuable is usually a bad idea, there will always be something you absolutely cannot afford to have stolen. Always be aware of your valuables, and try to keep an eye on them in such a way that it would be impossible for someone to steal without you knowing.
– Ask Locals For Advice: If you really want to know which neighborhoods are safe and which might be sketchy, ask a local resident of the area. Most locals are friendly, and will warn you about straying into dangerous areas.
– Register With Your Embassy: For example "The Smart Traveler Enrollment Program" from the U.S. Department of State, is designed to make a destination's local embassy aware of your arrival and keep you constantly updated with the latest safety information. Canada has it's own version, called "Registration Of Canadians Abroad".
– Email Your Itinerary To Friends/Family: Once you've worked out where you're going and when, make sure someone else knows too. The best way is to email the full itinerary to a few family members (and double-check with them that they received it – don't just assume it landed in their Inbox, make sure it did).
– Don't Share Too Much With Strangers: If you're ever tempted to make your itinerary more public, say in a Facebook post, just remember it can be a road map of your movements, just the sort of thing someone with ill-intentions would love to know.
– Tell Your Bank Where You're Going: Most online banking services have a facility for letting the bank or credit card provider know about your upcoming travels. Make sure you use it, shortly before leaving and keep them in the loop if your travel plans change.
– Food & Water Safety: Don't be scared of the food when you travel! In fact, eating strange new foods can be a highlight for many people on their adventures around the world. But please eat at popular places with long lines, fully cooked food is always the safest, only eat peel-able fruit to avoid bacteria.
– Use ATMs Wisely: You may have been told to cover your hand when keying in your PIN number at an ATM. That's good advice worth following, both for others looking over your shoulder, as well as hidden cameras trying to record your pin. Always take a close look at ATM machines before you use them. Pull on the card reader a bit. Does it have any questionable signs of tampering? If so, go into the bank and get someone to come out and check it (and then use another machine, regardless of what happens).
– Pack A First Aid Kit: Injuries can happen when you travel abroad, not matter how careful you are. That's why traveling with a basic first aid kit is always a good idea. You don't need to go crazy and bring your own needles and scalpels, but stocking the basics to treat cuts, sprains, stomach issues, and burns can help if you or people around you may need them.