Hanoi, located on the banks of the Red River, is one of the most ancient capitals in the world, where travellers can find well-preserved colonial buildings, ancient pagodas, and unique museums within the city centre. A great place to explore on foot, this French-colonial city is also known for its delectable cuisine, vibrant nightlife, silks and handicrafts, as well as a multi-cultural community that's made up of Chinese, French and Russian influences. Only have a few days in Hanoi? Pack the camera, bring an empty stomach, and hit the streets.
The City:
The City of Lakes, as it's sometimes called, is an ancient and thriving metropolis with districts new and old. To make the most of time, explore the bustling, narrow streets of the Old Quarter and the tree-lined boulevards of the French Quarter — eating, snapping, and dodging traffic.
Sightseeing on your very first morning in Hanoi should begin with a visit to Ho Chi Minh's Mausoleum, without a doubt the city's single most visited site, and one of Vietnam's most revered places. The Mausoleum is open only in the mornings, from 7:30 to 10:30 in the Summer and from 8:00 to 11:00 in the Winter. There are often large crowds, so arrive early.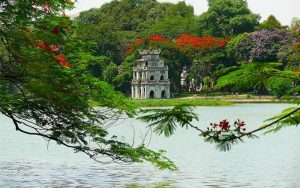 You can not help being overwhelmed by the serenity of Van Mieu (Temple of Literature) and Quoc Tu Giam (National University) from the moment you pass through its towering gates. Together, they make one of Asia's loveliest spots. Hidden from the humming metropolis behind high stone walls and ancient Frangipani trees are some of Vietnam's most magnificent religious structures and historical treasures. Great pools filled with blooming Lotus bear names like "Well of Heavenly Clarity". Dating from 1076, this was this part of Asia's most prestigious center of learning for aristocrats and the children of the Mandarins. The focal point of the site is the Sanctuary dedicated to Confucius, which is filled with elaborate Chinese reliquary.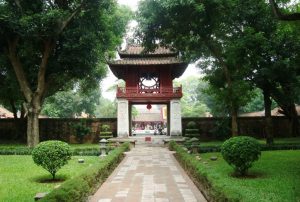 Next stop will be Vietnam Museum of Ethnology in Hanoi which offers an insight into the 54 different ethnic groups of Vietnam in an effort to preserve cultural heritage and promote socio-cultural diversity within the country. The museum is packed full of information detailing traditional Vietnamese ways of life, from religious events to the symbolic rituals of all the Vietnamese ethnic groups, providing a rich tapestry of the culture melting pot existing in Vietnam. The exhibition hall features everyday objects representing each group, a research centre, library and auditorium.
Can't help mentioning the "Hoan Kiem" lake, after the expansion of Hanoi into a major metropolitan area in 2009, little Hoan Kiem Lake remains the very heart of life in Hanoi. According to a 15th Century legend, a giant turtle presented Emperor Le Loi with a magic sword with which to defeat Chinese invadors. In accordance with their pact, the Emperor returned the sword to the turtle after a glorious victory in battle. Thus, the lake was named Hoan Kiem, or "restored sword." From here you can walk to nearby attractions like Ngoc Son Temple or the Water Puppetry Theater.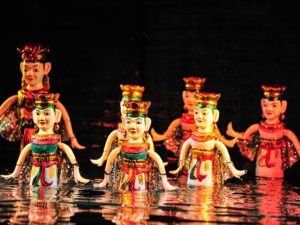 The People and the Old Quater:
Everyone is selling something in this communist economy, one of the fastest growing in the world. In the 36 Streets district of the Old Quarter, there is an order to things. Each street (there are more than 36 now) sells one thing: jewelry, silk, cotton, bamboo, Chinese medicine, string instruments, fish sauce, and votive papers, to name a few. Elsewhere, it's whatever you can hawk on the street.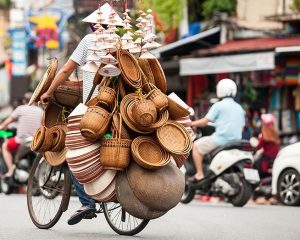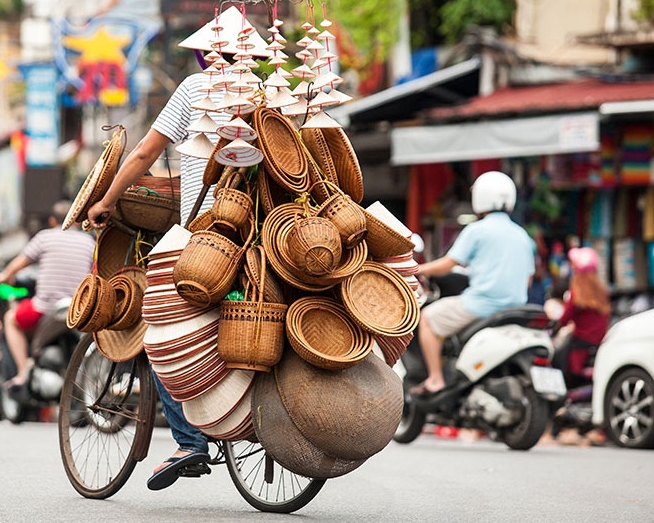 You will be accosted by a lineup of sidewalk barbers, chaps selling tracksuits, kids advertising seats at restaurants, men offering motorcycle rides, and plenty of street peddlers schlepping everything from fruit to fish over their shoulders.
Hanoians are proud people; they take pride in their cuisines, their etiquettes, their rich tradition and about their own love for the city not only to international tourists but also to people from other provinces in Vietnam. Hanoi food is listed among things you should try before leaving to another world.
The Food and Libations:
Not enough can be said about Vietnamese cuisine, its delicate balance of sweet, salty, spicy, and sour flavors rendering even voracious eaters satiate without needing to overeat. There are many things to sample in Hanoi: phở, bún chả, bánh mì, chả cá, to name a few…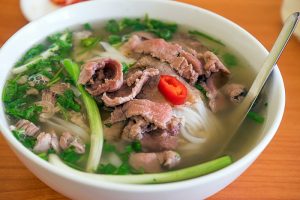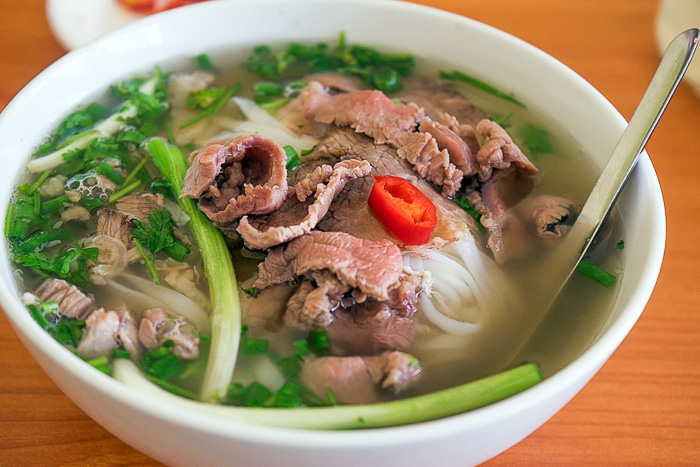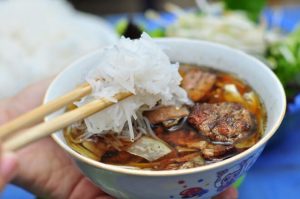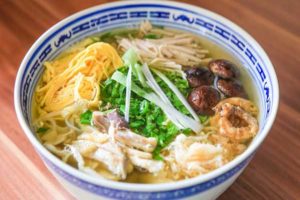 What are you waiting for? 👉 Vietnam vacations and tours customized by local travel experts are here…