Few places are as captivating and mysterious as Myanmar. As the travel community continues to hear more of what fascinates about Burmese culture, the "Golden Land" remains somewhat of a treasure waiting to be discovered. Here are 11 extraordinary things you should learn about Myanmar before you go.
Most people in Myanmar will become a monk or a nun at some point in their lives.
Since Buddhism is by far the predominant religion in Myanmar, local monasteries and nunneries see a lot of action –especially during major holidays such as Thingyan. Most Myanmar people temporarily become a monk or a nun for a few days at least once in their lifetime. It's treated as a very important event. Family members and neighbors gather for special ceremonies such as the head shaving.
A religious site with over 2,000 stupas tightly packed into less than a square mile actually exists.
Located approximately 30 miles from Taunggyi in Shan State, the stupas ( mound like structures containing relics ) at Kakku are a marvel of ancient architecture and religious devotion. Narrow passageways invite visitors to get lost amid what appears to be a mirage of elaborately crafted spires.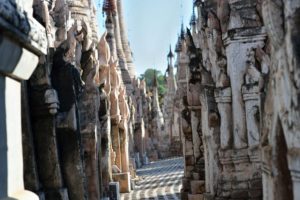 Birthdays aren't so self-centered in Burmese culture.
Several cultures adhere to a birthday celebration that revolves around the individual whose birthday it is. This isn't usually the case in Myanmar. Birthdays are a time for individuals to visit pagodas, offer up donations, and treat friends and family as opposed to being treated.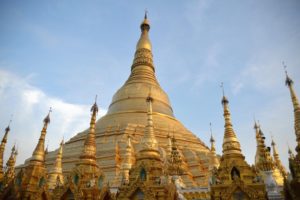 The unique leg rowers of Inle Lake impress with their balance-defying act.
Perhaps the biggest draw to Inle Lake in Shan State is its leg rowers. Members of the Intha (lake people) community make a living by cultivating floating gardens and fishing. Balancing on one leg at the back of a small wooden boat while rowing with the other leg to get around is more than a sight to see. It's an art form.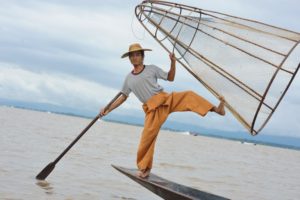 Irrawaddy river dolphins help people catch fish in Myanmar.
Small groups of endangered Irrawaddy river dolphins are found in a few locations around the world, but the ones in Myanmar are truly special. They're the only pod of Irrawaddy dolphin known to partner with humans in an effort to lure fish into nets. It's estimated that only 60-70 remain in an ever-shrinking stretch of Myanmar's Irrawaddy River.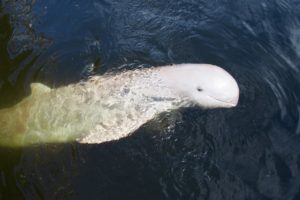 Setting caged birds free is a way to gain merit in Myanmar.
Many people in Myanmar believe the more good they do in life, the better their lives or afterlives will be. Setting animals free is one way to attain this. Birds can be purchased for a minimal price from a street seller walking around with a cage full of them.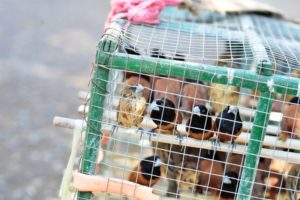 Burmese street vendors entice with melodious shouts.
Aside from offering birds to set free, many vendors in Myanmar take to the streets to sell a wide variety of goods ranging from rice cakes to broomsticks and fresh produce to toys. Each seller has a distinct call or even a tune they chant as they meander. This piece of Myanmar's culture is charming at times that aren't early in the morning.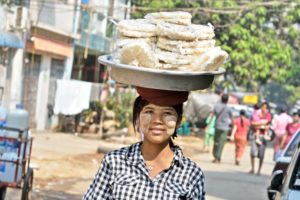 Traditional tea shops are the best part of waking up in Myanmar.
Move over Egg McMuffins, the traditional teashop still reigns as the place to go for a quick breakfast in Myanmar. In fact, McDonald's isn't even a thing, yet. Ordering a steamy bowl of mohingya or a few pieces of fried dough served alongside sweet, milky coffee or tea is the local way to go.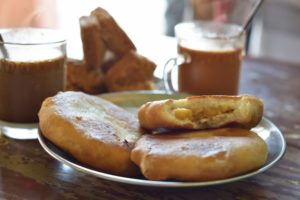 Tea leaves are for eating as well as drinking in Myanmar.
Knowledge of Myanmar's fermented tea leaves (laphet) is on the rise as this extremely popular local dish continues to gain international culinary attention. Pickled tea leaves are most often consumed in the form of a salad mixed with fried nuts and garlic, small shrimp, and a few chilies for an added kick.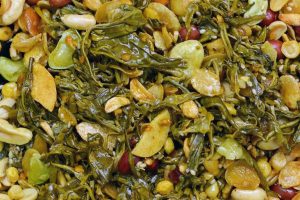 It's all about the salad in Burmese cuisine.
Burmese food is a unique blend of its own ethnic diverseness and influences from neighboring countries. Hints of India, Thailand and China can all be found in each bite. Traditional Myanmar meals tend to include a strong mix of sour and savory tastes found in a smattering of salads (thoke) served as main courses or on the side. These aren't your lettuce and dressing kind of salads either.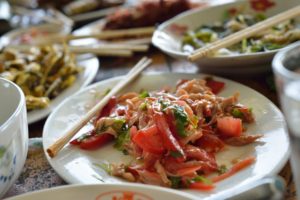 It's not blood – it's red-colored spit.
Chewing betel nut as a mild stimulant is still very much a thing in Myanmar. Look no further than a nearby street corner to find beautifully stacked betel leaves waiting to be lathered with slacked lime before being wrapped around bits of nut, various flavorings and often tobacco. This combination turns saliva a very distinct red, which is easily spotted on sidewalks, walls, or even the sides of cars.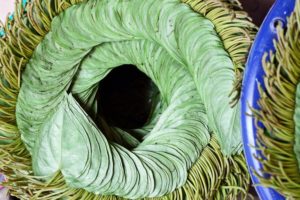 Ready to pull up a chair in a corner tea shop, walk among thousands of ancient stupas, or become acquainted with the familiar sounds of street sellers harmonizing throughout city neighborhoods? There are such incredible things to experience in Myanmar!