Summer is right around the corner, and families thinking of where to plan their next getaway, there are plenty of destinations that won't break the bank. Picking the right location to travel to during the busy summer season can make all the difference when it comes to saving money. We've rounded up destinations where you can have a great vacation at a great price, whether you want a relaxing beach vacation, a bustling city excursion, or a trip that combines both. 
1, Vietnam
Vietnam is a foodie's paradise. Literally everywhere, from the nicest hotels — like Hanoi's fabulous Hotel Metropole Hanoi and Hoi An's Victoria Hotel — to fine restaurants and simple noodle shops, your kids were treated like VIPs. You will see the Vietnamese people open, welcoming, bright and incredibly engaging; they embrace your children and take pleasure in sharing experiences and teaching them about Vietnam.
A private trip to Vietnam is a mix of activities to keep all ages engaged and on the move, with a very well planned itinerary thoughtfully tailored to each person's interests. By far the most important moments are those when you can almost see your kids' minds opening in front of you. Vietnam absolutely expanded their exposure exponentially. Some concepts, like freedom of speech, are easy to talk about in theory, but to see them in front of you is a powerful experience.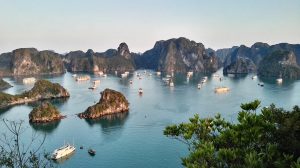 2, Thailand
Looking for an exotic destination that the kids can handle? Thailand has it: beaches, mountains, elephants, sparkling temples and bustling markets; there's something for each age range. Plus Thais are serious 'cute' connoisseurs, and exotic-looking foreign children trump stuffed animals and fluffy dogs.
Thai food has to be one of the best cuisines in the world. It's light, fresh, healthy and delicious. It's not all mouth burningly hot, it's cheap and available everywhere. If you or your children aren't keen on Asian food you will find Starbucks and Mc Donalds, pizza outlets and plenty of mouth watering fresh fruit to keep even the picky eaters happy.
3, Cambodia
It's difficult enough to keep kids entertained on holiday without adding 'culture' into the mix, but Cambodia is a surprisingly fun and educational. Cambodia has far more to offer than temples. Despite its shroud of mystery and lingering memories of civil war, modern Cambodia is actually a smile-filled destination, and children will be enchanted by the ancient, forest-filled temples, shuddering tuk tuks and markets with skewered, deep-fried spiders. Khmer children are as friendly as their parents – little ones will find new playmates in no time.
Nearby Siem Reap has a fantastic range of excellent value family-friendly resorts, most boasting the all-important swimming pool to fill 'downtime' moments. For the active, there are rope courses, horse riding and cycling; for the more culturally inclined, try rice-planting, traditional thatching or Khmer cooking classes. Child-friendly eating options and even a kooky modern Cambodian take on the circus all make this an ideal spot for families.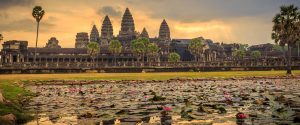 4, Laos
There are loads of things to do with little ones, and activities for families, that travelling with kids in Laos is never going to be a massive issue. From caving and cookery lessons to making new best friends forever, Laos is a friendly and welcoming place for families so all you've got to do is bite the bullet and dive right in.
The idea of travelling in Laos with kids fulfills every parent's romantic notion of showing their little ones how others live happily, but modestly, thus filling them with a newfound respect for material wealth. It's a very unspoiled place, so if you want your children to experience a very back to nature look at SE Asia as it used to be, Laos is very good for that.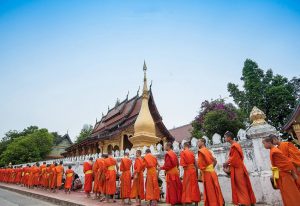 5, Myanmar
Travelling in Myanmar with kids needn't be daunting if you do your research, book with a holiday company focused on all things family like Asia Dream Tours. Every little detail here will open young minds up wide – from the buzzing markets to the horse and cart rides, the long tail boats and the beautiful dress of the hill tribes.
Burma encourages travelers to stretch their legs with hikes and climbs – but to get a little further than you can on foot, you can rent bikes. Bagan is flat and filled with hidden temples, staircases and miniature carvings and paintings; families can cycle among the ruins, finding their own favorite temples to play hide and seek in.