In Cambodia, family comes first. Step inside most Khmer households and you'll likely find grandparents spending hours cooing and clucking over children. This warm culture makes Cambodia an excellent place to bring the family. Here's our guide to the most family-friendly destinations in the Kingdom of Wonder.
Cambodia isn't always the first country that springs to mind for a family trip. Yet with friendly locals, beautiful scenery and fun activities for travelers of all ages, it is a world-class destination. With a little extra planning, a vacation in Cambodia is guaranteed to be talked about over family dinners for decades.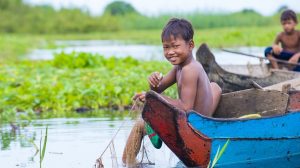 The country has developed in leaps and bounds in recent years, with improved infrastructure between all the major hubs. Roads are smoother, and many of the service stations between popular destinations are equipped with at least a handful of Western toilets and baby-changing rooms (remember to bring toilet paper).
Many larger international hotels have activities and facilities catering towards kids. Hygiene standards have also been elevated. While this may not always apply to parts of rural provinces, if you stick to the main tourist hubs then there are plenty of restaurants, eateries and coffee shops that adhere to international standards when it comes to keeping kitchens clean, cooking and serving food and drinks. Medical care is another major concern for parents.
While this isn't totally misplaced, Phnom Penh and Siem Reap are equipped with international medical centres and hospitals. However, invest in decent travel insurance that includes medi-evacuation, as any serious injuries or illnesses will be referred to Bangkok. Also make sure the family's vaccinations are up-to-date.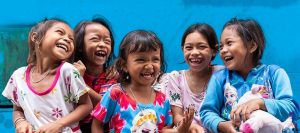 Siem Reap is Cambodia's number one family-friendly destination. The compact city – more a town – is packed full of hotels that have facilities dedicated to children. It's worth checking before booking what services they offer, including babysitting and play parks, to daily activities and mini-trips.
Angkor Archaeological Park is suitable for families, regardless of age. Exploring the ancient ruins and playing Tarzan in Angkor's jungles is a great way to spend the day. The one problem may be finding clean toilets and baby-changing facilities. More are popping up throughout the site but are still lacking.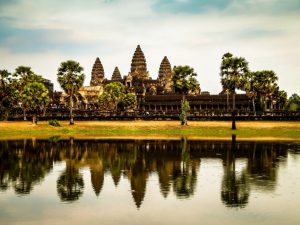 Ongoing restoration work at the main temples of Angkor Wat, Bayon and Ta Prohm mean walkways have drastically improved. However, there are still many parts of the temples where pushing a pram may be difficult (so bare this in mind if you have small children). Don't forget to pack sunscreen and hats as it gets very hot.
Phare, the Cambodian Circus is another top activity for the family. Run by NGO Phare Ponleu Selpak, the circus sees Khmer folktales retold on stage through an incredible ensemble of acrobatics, juggling, trapeze and other circus skills. Don't worry – no animals are involved in the show.
A visit to the Bantea Srey Butterfly Centre is another entertaining activity. These netted tropical gardens are home to thousands of colourful butterflies, with a section where visitors can learn about their stunning metamorphosis.
As one of the heaviest landmine countries in the world, Cambodia is still littered with landmines today – but don't let this put you off, as all the main areas have been cleared. Traditionally, mine detection has been carried out by dogs and their handlers but in 2015, Belgian NGO APOPO introduced its giant African pouched rat to operations. It claims rats are safer, quicker and more cost effective than manual detection. At the  APOPO Visitor Centre guests are given a tour of the facility and the chance to meet the heroic rodents, who demonstrate their life-saving work.
Hitting Siem Reap's countryside brings heaps of family adventures: from riding an ox cart through rice fields, sitting in a traditional tractor through jungles and splashing in waterfalls at Phnom Kulen national park to watching shadow puppet shows in the evening.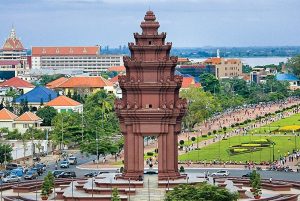 There's no shortage of family fun in the Cambodian capital – Phnom Penh, with plenty of hotels making special arrangements for little ones.
Many of the capital's parks have a small playground area, with Wat Phnom's manicured gardens a great place for the kids to let off some steam. Just be aware that the park is inhabited by several cheeky monkeys. They may look cute from afar but can be vicious if approached – don't feed or taunt them.
Phnom Tamao Wildlife Rescue Centre is about 40km from the capital and is a great day trip to see some of the country's endangered wildlife. Operated by NGO Wildlife Alliance, which works across the country to rescue animals from the clutches of poachers and the illegal trafficking trade, the centre houses elephants, sun bears, monkeys, leopard cats, pangolins and other endangered and rare creatures.
In 2017, Fantasy Water World opened its doors, presenting 8,000sq m of water slides, inner tube rides and play areas. Alternatively, Kids City pits itself as an indoor edutainment centre, featuring 10 floors of activities. These include bumper cars, laser tag, a Clip 'n' Climb gym, jungle playground and science gallery.
For something a bit quieter, take the kids to Koh Dach (Silk Island), which sits about 40 minutes from the capital in the Mekong River. Here, you can hire bicycles and ride around the small, flat island and get a glimpse of rural local life.
There's always heaps of family fun to be found at the beach. Here, you can choose to stay in accommodation ranging from basic bungalows through to poolside villas, all a few meters from the golden sands.
Sihanoukville has plenty of water sports to engage in, including snorkeling, kayaking and sailing. Alternatively, spend the day island hopping, quad-biking or horse-riding along the beach and into the surrounding countryside.
There are also the surrounding islands to be explored, with plenty of tranquil spots on Koh Rong and neighbouring Koh Rong Sanloem. Here, families can soak up a secluded tropical island paradise. Build sandcastles on the beach, explore underwater life and take a mini-trek through the jungle.
Be inspired? Why don't you PLAN YOUR TRIP to Cambodia?