Cambodia's markets form the lifeblood of locals, and are also a great place to bag a bargain in the form of souvenirs, especially if your bartering skills are in top shape. With many markets to choose from in Siem Reap, we throw the spotlight on some of Temple Town's best spots to get shopping.
Phsar means market in Khmer and this is where locals buy everything, from fish, fruit, vegetables and meat, to motorbike parts, textiles, clothes, DVDs and home décor. At a fraction of the price of their counterparts in stores, there are bargains to be had at every corner. However, the quality of items like knock-off movies and electronics can't be guaranteed.
Whether you're into shopping or not, a trip to the market while you're in Siem Reap is a must, if just to get a glimpse into local life, especially at the crack of dawn when Cambodians haggle for the freshest and best bargains of the day. After all, the early bird catches the worm.
Pshar Chas (Old Market)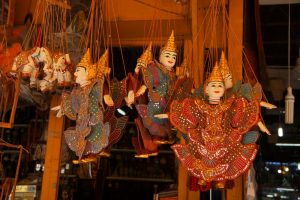 Constructed in the 1920s, Phsar Chas sits in the heart of historic Siem Reap. Today, it mainly caters to the mass of foreigners visiting the town, flogging a whole host of souvenirs, slogan T-shirts and textiles. Art is also sold in the form of paintings, sculptures and carvings, with books covering Khmer history also dirt cheap.
Angkor Night Market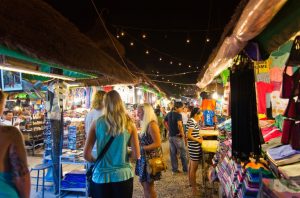 Despite stiff competition from many copycats since it opened over a decade ago, Angkor Night Market is still standing as the city's top night market. While the site is currently undergoing upgrades, it remains open and offers stall after stall selling everything your imagination could desire. It is also home to the lively Island Bar, which goes on until the early hours, and a selection of stalls selling food and drinks. There is also a spot to enjoy a massage in between hitting the shops.
Noon Night Market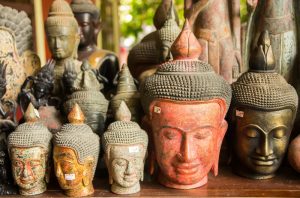 Not to be confused with Angkor Night Market, Noon Night Market is just down the road but is smaller. However, it still boasts more than 100 stalls selling everything from ornaments, silverware and carvings, to movies, clothes, food and even a tattoo parlour, Skin Art Shop. There are also various vendors serving up local dishes, and a bar that serves up alcoholic and non-alcoholic drinks.
Made in Cambodia Market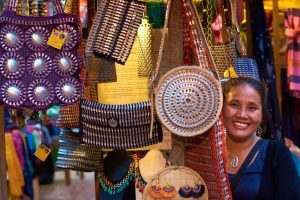 The Made in Cambodia Market does what it says on the tin: sells and promotes quality crafts and goods, all made in Cambodia. While local markets may well be filled with items from Vietnam and China, this daily market takes in artisan goods from a range of designers and organisations, including Saomao, Rehash Trash and Friends International. With the main aim of the market being to celebrate local artisans, visitors can meet those responsible for making the handicrafts and learn more. Set at the King's Road Angkor complex on Siem Reap River, there are plenty of restaurants, cafes and bars to refuel at.
Phsar Leu Thom Thmey

Referred to locally as Phsar Leu, this is Siem Reap's largest market – and its most authentic. Located slightly out of town on National Road 6, locals flock here daily to bag the best bargains. Local to the core, it is a maze of stalls selling raw meats, flapping fish and seafood, phones, clothes and household items. While prices are definitely cheaper here, expect very little English to be spoken.