Vietnam is a foodie paradise, with restaurants and street vendors serving up fresh and locally sourced cuisine. Vietnamese cuisine doesn't win any points for complexity, many of the most popular dishes can be made just as well on the side of the road as in a top-end restaurant. Being a huge country, the various regions of Vietnam (north, central, and south) each had their own unique food styles. This below list will guide you to the best local specialties in each part of country.
Phở – Hà Nội:
"Phở" a beef or chicken broth served with rice noodles, apart from pho throughout the rest of the country is its special and intricate blend of fresh herbs and spices, including star anise, cinnamon, ginger and coriander to name a few. "Phở" is usually served with chili peppers and lime which is to be added directly to the broth. For breakfast lunch or dinner, "Phở" is a savory, spicy, and hearty treat. It's cheap, tasty, and widely available at all hours. Try Pho 24, which has chains internationally, or if you want to be like a local please take a seat at any street vendor for a more authentic experience.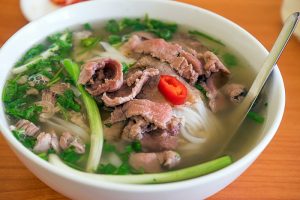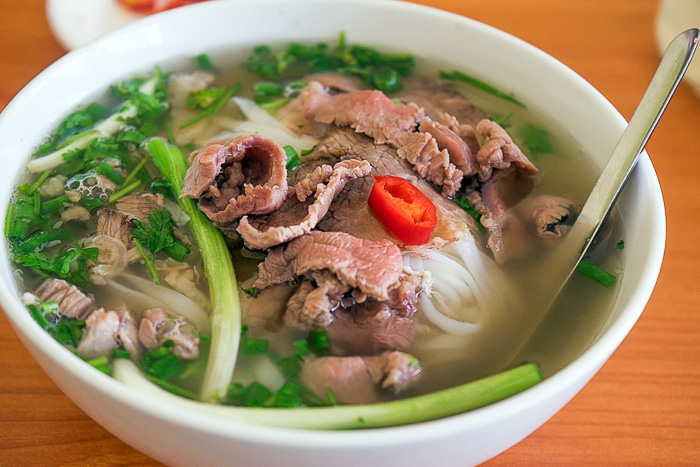 Bún chả – Hà Nội:
"Bún chả" is a local dish originally from Ha Noi, the capital of Vietnam. The dish is very simple to make and can be found anytime of the year. It doesn't matter if you eat "Bún chả" in a restaurant or a small cart on the street, you will be served by a plate of vermicelli (bún), a bowl of broth with grilled pork and a basket of fresh greens (thai basil, cilantro, fish mint, banana flower and coriander).
To make a decent bowl of "Bún chả", the vermicelli has to be thin, soft and chewy. Chả is the meat part of this dish, served in a bowl. The meat is made from pork and cooked in two styles: chả viên (ground pork) and chả miếng (grilled thin slice pork). It is served with the broth.
The highlight of bun cha is definitely the broth (or dipping sauce). To make the sweet and sour soul of this dish, the cook mixes fish sauce, vinegar, and sugar together. The ingredients might sound simple but the taste varies from one shop to another because of the different ratio of each element in the recipe. Diners can tell a good or bad "Bún chả" by the flavor of the sauce.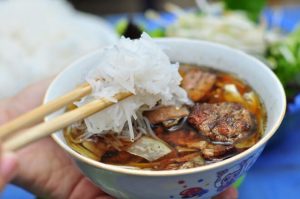 Bánh Mì:
Just in a few decades, the "Bánh mì" (bread) is popular with Vietnam people as an convenience breakfast in the morning . In the north, chefs stick to the basic elements of carbohydrate, fat and protein — bread, margarine and pate — but head south and your "bánh mì" may contain a more colorful combination of cheese, cold cuts, pickled vegetables, sausage, fried egg, fresh cilantro and chili sauce.
Foreign tourists, who use to eat "bánh mì" will not easy to forget the wonderful taste of this bread. "Bánh mì" in Vietnam, can be found everywhere, from north to south, the most popular is the sidewalk bar or on the trolley with the average price of only ten to fifteen thousand, but enough to make diners remember forever.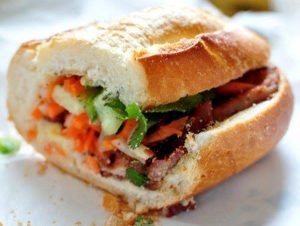 Bánh bèo – Huế:
Huế, the former capital of Vietnam during the Nguyen dynasty, is a historic and scenic city in the heart of Vietnam. Because of its royal history, Huế's culture is sophisticated and flavorful, borrowing ingredients and flavors from around Vietnam, as well as culinary influences from its past imperial rulers, including the Chinese and the French. "Bánh bèo" are small, thin rice paper crêpes, often eaten as an appetizer. They are served individually, and are usually topped with dried shrimp and served with tangy fish sauce and scallions. The presentation and simplicity of this dish is what sets it apart from other specialties in Hue, although "bánh ít ram" is another local treat which shouldn't be missed.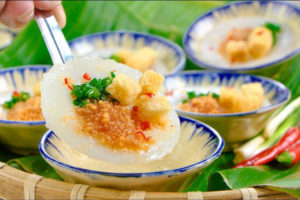 Mì Quảng – Đà Nẵng:
"Mì Quảng", or quang noodles, is a noodle and broth dish unique to the Quang Nam province of Central Vietnam. What sets quang noodles apart from other noodle dishes throughout the rest of the country are their yellow-tinted noodles, modest broth and seasonings. Quang noodles feature only a small amount of a rich pork broth which is quickly soaked into the noodles, and features a garnish of peanuts or crispy rice crackers on top. "Mì Quảng", can have many variations, so dishes may have something different like chicken or beef depending on what street food stalls or restaurants you go to.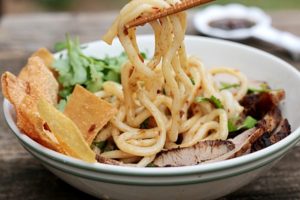 Cao lầu – Hội An:
"Cao Lau" Hoian is the foremost traditional food in Hoian. Until now the origin of Cao Lau is still enveloped mystery. This pork noodle dish from Hoi An is a bit like the various cultures that visited the trading port at its prime. "Cao Lau" does not taste like any other Vietnamese dish but nobody can recognize it as being comparable to Chinese or Japanese cuisine. Despite its Chinese-like appearance, the Chinese people don't' consider it to be Chinese food. The thicker noodles are similar to Japanese udon, the crispy won-ton crackers and pork are a Chinese touch, while the broth and herbs are clearly Vietnamese. Authentic "Cao Lau" is made only with water drawn from the local Ba Le well.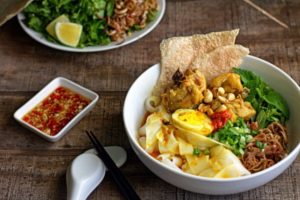 Cơm Tấm – Saigon:
"Cơm Tam" is one of the most common meals throughout Saigon, and you'll see it being served at countless little restaurants and street food stalls around the city. "Cơm Tam", or broken rice, is an everyday meal made from broken rice grains. It's essentially broken grains of rice left over from the traditional drying and milling process. It looks very similar to normal rice, only the grains are broken into smaller pieces, hence the name. A plate of "Cơm Tam" comes with a plethora of ingredients placed on top, such as sườn nướng (marinated grilled pork chops), bì (shredded pork skin), chả trứng (a steamed pork and egg quiche), chả cá (deep fried fish patty) and trứng (fried egg). It is usually garnished with some lightly fried, sliced spring onions or some zingy accompaniments typical of Vietnam: sliced cucumber, mint, spring onions and lime, for instance.
When you enjoy a "Cơm Tam" dish you will feel something very Vietnamese. It's really a perfect mix to make an amazing food that wins not only locals but visitors' heart.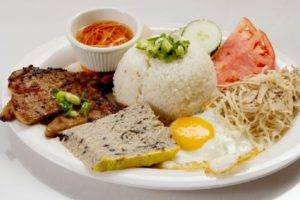 Well, to eat like a local sometimes you must have an adventurous mind as many restaurants in Vietnam don't always look like traditional restaurants in the US or Europe. Sometimes, the "restaurant" is the front room of someone's house, and they serve food to you in what is essentially their living room. Sometimes the "restaurant" is just a grill setup over an open fire on the sidewalk. If you see people sitting on little plastic stools, go ahead and join them. Once you get addicted to Vietnam food style, we are afraid that there is no solution for you to overcome the problem, excepting coming back to this country.