Vietnam is a country full of wonders, rich history, fascinating cultural traditions and spectacular scenery as well as the astonishing variety of its cuisine with unfailing warmth and hospitality of its people.
In recent years, Vietnam is a destination for people who like to live slowly. Vietnam is a place where visitors not only have the usual sightseeing tours, but also find plenty of time to rest and take care of their health.
The Sydney Morning Herald, Australia's oldest daily newspaper, suggests 12 destinations for travelers who like slow travel. One of those places is Vietnam – a country where tourists can both travel and relax, especially enjoy health care services.
Travelers are advised to take part in yoga, cycling, hiking, wellness, rejuvenation and detox treatments at the spa. They should also attend a local cooking class, making dishes with organic ingredients. After all, there are fun and exciting moments on the beaches of Phu Quoc – a famous tourist island in Vietnam or a cruise on Lan Ha Bay, an alternative to the familiar Ha Long Bay …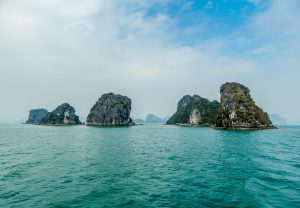 Other experiences that are also mentioned in the world include: going to Europe to join a river cruise and explore small villages, learn about culture and slow life in Hawaii, or go to famous pilgrimage sites such as the road of Santiago de Compostela in Spain.
According to the Australian newspaper, slow travel is described as a philosophy, a way of life and a new style of travel. This is a form of travel for the participants who do not follow the available schedules. Modern life makes people want to find ways to slow down, more than 10 years ago, slow travel was a movement. But now that sustainability is at the forefront of experiences, slow travel is more of a necessity than a fad.
The "slow travel" gives us time to better understand the destination, connect with the people and contribute more to the local economy. Especially after the world faces the pandemic, climate change, tourist destinations are increasingly overloaded, slow travel is more and more suitable. "More and more travelers are wondering what they want from a vacation and what this earth has to offer from that vacation. The answer will be: don't rush, slow down, reflect more. If we go slowly, we will find ourselves less disturbed, as well as less faced with the hardship of displacement," said Brian Johnson, a British travel expert.