After spending time in bustling city like Hanoi or Ho Chi Minh, it's time to head to a place where the essence of Vietnam hasn't been as strongly impacted by western influence and tourism. Phu Yen is the perfect place to experience just that. A quiet province on the coast, it offers everything you want from a tranquil seaside destination including delicious seafood, deserted white sand beaches and stunning backdrops of green rolling hills. If you are looking for an off-the-beaten-track place to explore in Vietnam, save a few days for Phu Yen. You will be amazed at its beauty and diversity.
As you explore Phu Yen and its beautiful natural sights, Ghenh Da Dia is a place you don't want to miss. Right on the coast, you will find this area full of curiously shaped black stones forming an intricate, puzzle-like design.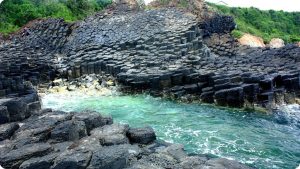 Millions of years ago, during a volcano eruption, mineral flows melting was frozen when they encountered water and then the solid broke into columns or obliques. That created the beautiful landscape of Ghenh Da Dia for the present time. Time over time, the landscape is rearranged as an artistic work by the hand of nature.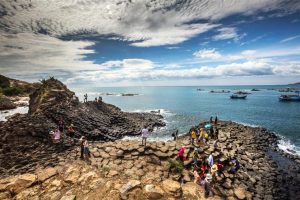 Stretching over 2,000 meters in length, Ghenh Da Dia is widening about 50 meters. It is estimated that there are 35,000 rock columns, standing in close position as if supernaturally placed, each of which has an average visible height of 60-80cm, cross-section of 20-30cm.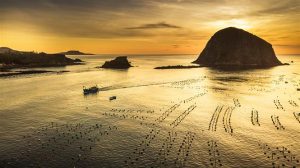 About 700m from Ghenh Da Dia, turn into along a small road and head towards the Ganh Den lighthouse. On the rocks of unique shapes and colors, there is a red-white lighthouse protruding high against the blue sky, which is used to signal the offshore boats to know the entrance and exit of Xuan Dai bay.
To those interested in Buddhism, Thanh Luong Pagoda is the place you can't miss. Stepping into the temple, visitors can relax and feel the space of tranquility and peace. The statue of Guan Yin hidden in the water will surprise you.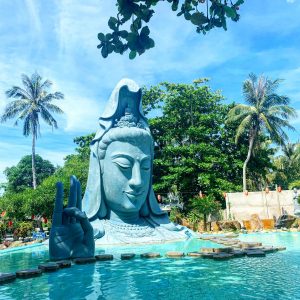 On the way to most sight-seeing places in Phu Yen you will pass by O Loan Lagoon. It's a beautiful spot to take a break and stretch your legs after sitting on the motorbike or on the car for a long time. You can also have delicious seafood here.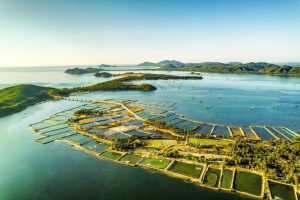 The Mang Lang (Mằng Lăng) Catholic church is another prime attraction in Phu Yen. The superb 120-year-old Gothic church is one of the oldest churches in Vietnam. The first book written in Vietnam's modern script is kept here.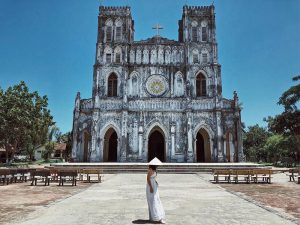 Now, it's time for you to travel to Phu Yen province and explore the hidden beauty of Ghenh Da Dia and other beautiful place. Why don't you PLAN YOUR TRIP?