Traveling is not only about fitting in every beautiful scene and landmark, but it's also about experiencing the local food. Hanoi is the capital of Vietnam, the city has a deep history and there is no better way to understand this than to try the food. Not only did Anthony Bourdain sample some of Vietnam's finest local eats in Hanoi, but president Barack Obama did it also.
"There is no better place to entertain the leader of the free world, in my opinion, than one of these classic, funky family-run noodle shops you find all over Hanoi," says Bourdain. "Dinner and a beer costs about $6. I'm guessing the President doesn't get a lot of state dinners like this."
President or not, you don't need a celebrity guide to make the most of this nation's eats when you travel here.
1. Phở (Beef Noodle Soup)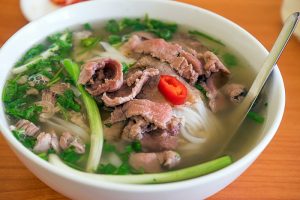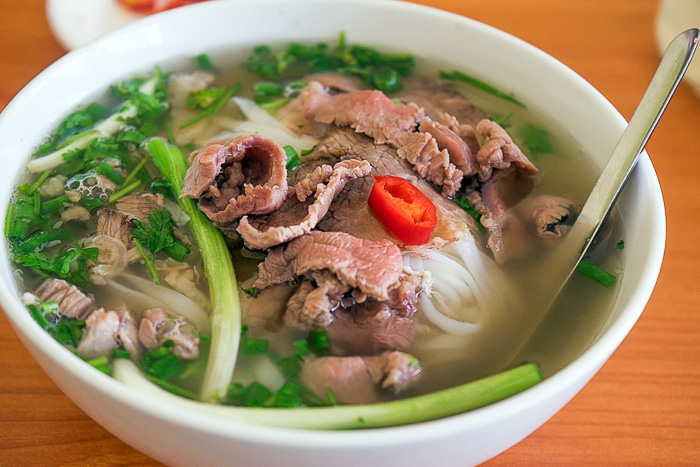 Phở has been cooked for decades and it's not only an emblem of Hanoi but also of Vietnam. People are charmed by sweet and pure taste of its sauce together with some tender pieces of beef or chicken. The strings of rice noodle which is totally handmade also brighten the unique of this dish. Phở in Hanoi still retains those special characteristics that only the so-called "origin of the dish" possesses. Maybe you have tried Phở a few times before visiting Vietnam, but you will discover why Phở in the capital beats Phở anywhere else.
Travelers can also try Phở at small shops along the streets. Just go down streets in the morning and look for a place that you see a crowded of local people gathering around having Phở as their breakfast. Phở is truly an amazing breakfast treat that will not break your bank.
Where to eat Pho in Hanoi:
• Pho Bat Dan at 49 Bat Dan street, Ha Noi.
• Pho 10 Ly Quoc Su street, Ha Noi.
• Pho Cuong at 23 Hang Muoi street, Ha Noi.
• Pho Thin, 13 Lo Duc, Ha noi.
2. Bún Chả (Grilled pork & noodle)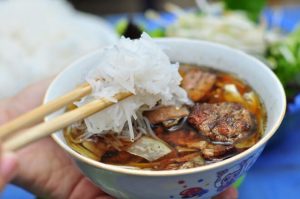 Bún chả is a very typical dish of the capital. This kind of noodle dish is very easy to eat, it can be eaten in any season, and most importantly, it's cheap but excellent. You will never believe that such a simple dish made of rice vermicelli, a bowl of grilled pork, and a bowl of sour-sweet sauce with papaya has fascinated many people, including Barack Obama when he visited Vietnam in 2016. It is a perfect combination of sour, salty, sweet and hot taste that people feel hard to put down their chopsticks at first try. There are only 3 main ingredients in a bowl of kebab rice noodle as grilled pork, vermicelli and sauce. Simple ingredients, unreal flavor.
Where to eat Bún Chả in Ha Noi:
• Dac Kim restaurant: 1 Hang Manh street, Ha Noi.
• Huong Lien Restaurant: 24 Le Van Huu street, Ha Noi (where Obama had bún chả)
• 75 Ma May Street, Ha Noi.
• 59 Hang Ma Street, Ha Noi.
• 74 Hang Quat street, Ha Noi.
3. Bánh Cuốn (Vietnamese Steam Rice Rolls)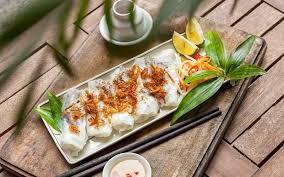 Another famous and delicious breakfast in Hanoi is steamed rice roll. Steamed rice roll looks like a stuffed pancake or a crepe but it's not sweet. It's made from rice paper combined with minced pork and chopped mushroom. Cooks also put some pieces of Vietnamese ham and pork cotton on top. Steamed rice roll is no salted at first that why this dish is served together with a small bowl of fish sauce mixed some chopped garlic, red hot pepper and slices of unripe papaya. All of these ingredients and secret family recipe make steamed rice roll's become a real star in Ha Noi's foods.
Where to eat Bánh Cuốn in Hanoi:
• Madam Hanh at 66 To HienThanh street
• Thanh Van at 12-14 Hang Ga street
• Banh Cuon Ba Trieu at 101 Ba Trieu street
• Gia An at 25 Thai Phien street.
4. Bánh mì (Vietnamese baguette)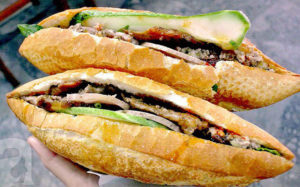 If you're planning on traveling to Vietnam, the one sandwich you will hear about and will not want to miss is the Bánh mì. Now for those who haven't heard about Bánh Mì before, it's an airy French baguette with a thin crunchy crust that Vietnamese stuff in with cornucopia of roast chicken or pork, homemade pork-liver pâté, headcheese, cured ham, pickled daikon radish, carrot, a generous sprinkling of cilantro leaves, slices of cucumber and chili pepper, a few dashes of mixed fish sauce, and a light spread of mayonnaise. A combination of those ingredients, the spicy, salty, sour, savory, aromatic, and sweet made a bite into a well stacked Vietnamese sandwich a moment of rapture. Even Bánh mì has been imitated around the world. It is definitely what you will miss when you leave Hanoi.
Where to eat Bánh Mì in Hanoi:
• Banh Mi 25 at 25 Hang Ca street
• Banh Mi Ngon at 1 Cau Go street
• Banh Mi Pho at 97 Hang Bong street
5. Chả Cá Lã Vọng (Turmeric Grilled Fish)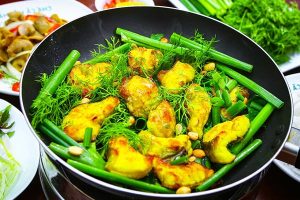 La Vong grilled fish is a highlight of Hanoi's specialties. Its recipe has been handed down from generation to the other by Doan family for over 70 years. This popular dish has been existed for so long that the street that the house located at was named after it. La Vong grilled fish is made from a special kind of fish names hemibagrus (Vietnamese call it "cá Lăng"). People grill hemibagrus' meat with oil and dill, then they serve grilled fish with vermicelli and shrimp paste. This simple and scrumptious food attracts numerous of local people, domestic and foreign tourists as well. You will have the best taste of this dish at La Vong street.
Where to eat Cha Ca La Vong in Hanoi:
• Cha Ca La Vong at 14 Cha Ca Street, Hanoi
6. Bún Thang (Vermicelli Soup with Chicken, Egg, Pork)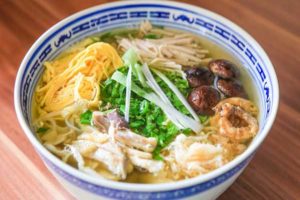 Bun thang is a special dish both in its name and in how it's made. In the past, the Hanoian women cleverly used the remaining food from Tet (Vietnamese New Year) and combined the leftovers to make a new dish which was tasty and economical. The dish's name is derived from this phrase: "Thang thuoc bo," which means a package of rejuvenation. Bun thang consists of many nutritious ingredients mixed together, just like the method used in Eastern medicine to mix herbs. This dish is made primarily of noodles and chicken soup; in addition, people can eat it with duck eggs, shrimp, squid, onions, garlic, or shiitake mushrooms. This combination makes bun thang not only a delicious food but also a very nutritious one.
Where to eat Bun Thang in Hanoi:
• Bun Thang at 13 Gia Ngu Street, Ha Noi.
• Bun Thang 59 Hang Luoc Street, Hoan Kiem, Ha Noi.
• Thuan Ly Bun Thang: 33 Hang Hom St, Hoan Kiem, Ha Noi.
7. Xôi xéo (Sticky Rice with Mung Bean Topping)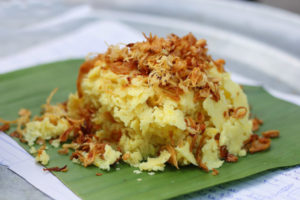 Xoi xeo is a typical breakfast food of Hanoians. It's made of steamed glutinous rice and other delicious ingredients. During the steaming process, the rice is mixed with chicken fat. This steamed rice is then paired with mung bean, which is steamed and ground, and topped with crispy fried shallot. This fresh yellow xoi xeo is packaged in lotus leaf. The smells of chicken fat, crispy fried shallot, and lotus leaf combine to make a nondescript yet delectable scent of xoi xeo.
Where to eat Xôi Xéo in Hanoi:
• Xoi Yến at 33 Nguyen Huu Huan Street, Ha Noi.
• Xoi 622 at C12 alley 76, Tong Duy Tan Street, Hoan Kiem, Ha Noi.
8. Bún Ốc (Snail rice noodles)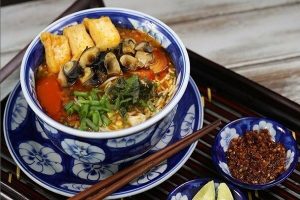 Hanoians usually eat bun oc for breakfast or lunch, particularly in winter. When it gets cold, it is hard to imagine anything more delightful than slurping down a bowl of steaming hot and spicy soup with the chewy but tasty snail in it. This dish has a singular sour taste from thickened vinegar and charming crispness of very well processed snail (so don't worry about getting a sore stomach). Bun oc is accompanied by a variety of fresh vegetables and herbs like lettuce, coriander, perilla, knotweed, and basil. Though it has boiled snail as its main ingredient, you can still feel the elegance when eat Bún ốc with fired tofu, scalded tomato and raw vegetable.
Where to eat Bún Ốc in Hanoi:
• Madam Lương at 191 KhươngThượng Street, Hanoi.
• Bún Ốc cô Huê at Dang Dung street, Hanoi.
• Bún Ốc cô Thêm at 6 Hang Chai street, Hanoi.
8. Miến lươn (Noodles with eel)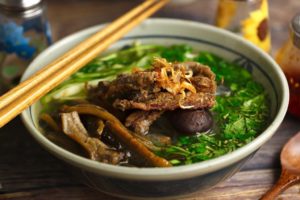 Instead of using bun or rice vermicelli noodle, eel noodle soup comes with glass noodles (mien) which are made of cassava flour. The fresh rau ram is traditionally used to eliminate the fishy taste while the fried eel has a wonderfully crunchy texture and a mild taste. Some seafood lovers who don't mind the fishy taste order their noodles with fresh eel instead of deep-fried eel, or a bowl of fresh eel soup. A display case out front is kept filled to the brim with dried eel, and with the constant foot traffic it's easy to see why.
Where to eat Miến lươn in Hanoi:
• Quan luon at 34 Yen Ninh Street, Hanoi.
• Dong Thinh restaurant at 87 Hang Dieu street, Hanoi.
9. Bánh xèo (Rice-powder crepe)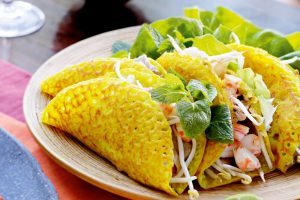 Banh xeo is a crêpe made from rice flour and coconut milk colored with turmeric and packed with a standard filling of mung bean paste, shell-on prawns, bean sprouts, and slices of boiled pork. The batter gets evenly spread across a large piping hot wok with a generous amount of oil, creating a crispy exterior that is folded in half when fully cooked. The result is a thin and savory pancake. And it's important to mention that banh xeo is Vietnamese finger food. That's right, you'll be wrapping up these slices in an array of herbs and dipping them into nuoc cham, sweetened fish sauce. Prepare to get your hands dirty!
Where to eat Bánh xèo in Hanoi:
• Banh Xeo Gion Pancake at 25 Lo Su Street, Hanoi.
• Quan Ngon restaurant at 18 Phan Boi Chau street, Hanoi.
10. Mỳ gà tần(Chicken stew with herbs)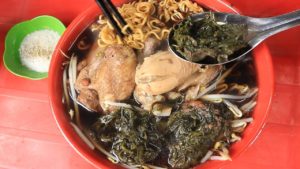 (Photo in the video of Tasting Vietnam)
My ga tan is one of Hanoi's most intimidating dishes. But after getting past the shock of realising there's a chicken head peering back at you from your soup, you'll find the dish is hearty and fulfilling. Diners have two options: the 'regular' chicken, or a miniature (and slightly more expensive) chicken called a black-bone silky, named for its black skin. The chickens are stuffed into empty soda and beer cans with aromatic Chinese herbs. Next, the cans are placed over heat, allowing the meat to soak up the flavours while it simmers. Ramen noodles are added to the stew, and Vietnamese swear by the soup's healing properties.
Where to eat Mỳ Gà Tần in Hanoi:
• Quan Cay Si 29 Tong Duy Tan Street, Hanoi.
• My Ga Tan 12 Hang Cot Street, Hanoi.