In the mountains of central Vietnam, a colossal pair of hands lifts a golden thread of walkway high above the clifftops, as if the mountain itself has sprouted limbs. Many people were surprised by the spectacular nature, eye to see the Golden Bridge in Da Nang.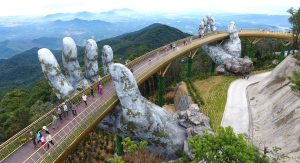 Golden Bridge is in Thien Thai garden, Ba Na Hills tourist area (Da Nang). It is located 1,414m above the sea level. The bridge is connected to the Marseille and Bordeaux stations. So it is to take guests from the foot of the mountain or the French village to visit the flower garden. In the middle of the air, the bridge looks like a brilliant silk. Its length is 150m, including 8 spans, the longest span is 21.2m.
The exact location of Ba Na Hills where the Golden Bride resides is An Son village, Hoa Ninh commune, Hoa Vang district, Danang. To come here, you have to buy ticket that is valued for not only the bridge but also the 2 way cable, the wine cellar, Le Jardin gardens and most games in Fantasy Park.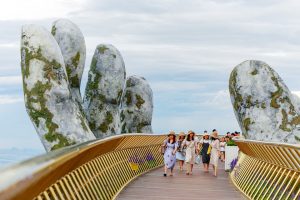 In the midst of the forest, the bridge stands out in yellow. Noteworthy, the attraction is unique architecture with the bridge image is supported by gray hands, creating a beautiful scenery surprised.
"I feel like I'm walking on clouds," said a tourist from Hanoi. "It's so unique".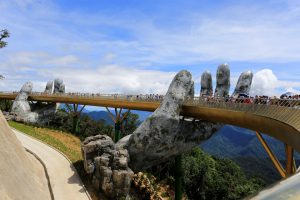 Many people will think that the hands lift the Golden Bridge looks like stone carvings, but actually, it is not. Bored Panda, a famous website for designing, also provides interesting information on how giant stone hands were created. The designers created the skeleton hand and covered with steel mesh, then, finished with fine fiberglass and decorated it. The entire construction of the bridge takes about a year.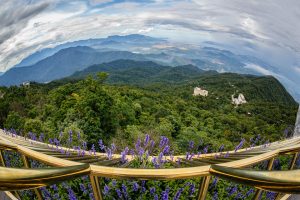 Lobelia Chrysanthemum is planted along the pathway on the bridge, creating a focal point of color, attracting the eyes of visitors.
If you are familiar with the Dragon Bridge, Ba Na Hills … this is definitely the break point, bringing new features to the city of Da Nang tourism. Golden Bridge is also a must visit attractions in Da Nang if you want to have pictures "virtual live" real.
What are you waiting for? 👉 Vietnam vacations and tours customized by local travel experts are here…