Beach lovers will truly be in their element in Thailand. Boasting long stretches of coastline along the Andaman Sea and the Gulf of Thailand and numerous islands and islets, the sun, sea, and sand are easy to find. Choosing the best island can be tricky, so here are five top islands for any first-time visitor to Thailand.
Phuket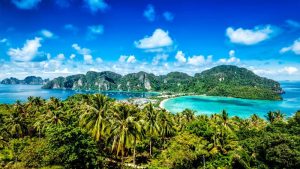 The largest island in Thailand, Phuket is immensely popular for a reason. Offering something for everyone, prices may be higher than in other parts of Thailand, but it's a small trade-off for the sheer diversity and fun to be found here.
There are beaches to suit all tastes — the high octane Patong for energetic travellers, sexy palm-lined Kata Beach, laid-back Surin Beach, and the relatively un-crowded Kata Noi Beach, to name just a few. From sunbathing, swimming, snorkelling, and jet-skiing, to parasailing, surfing, beach massages, and boat trips – there are many activities to keep you occupied.
Cultural spots include the Big Buddha, Wat Chalong, the Jui Tui Shrine, and Phuket Old Town, with its blend of Chinese and Portuguese architecture. The Siam Niramit show presents scenes from Thai folklore and the country's long past, while the colourful Phuket FantaSea is a popular cultural theme park with a dazzling show and varied entertainment and shopping options. Fans of quirky attractions are sure to love Baan Teelanka — the Upside Down House — and the Phuket Trickeye Museum. Enjoy a traditional massage, take a cooking class, go hiking in the jungle, visit an elephant sanctuary, and more.
From traditional Thai dishes and seafood to a range of international cuisine, there's no need to go hungry in Phuket. The eclectic night scene also caters to all tastes, with romantic cocktail bars with stunning views, chilled-out beach bars, and the frenetic party vibe along the infamous Bangla Road. There are vibrant night markets, cabaret shows and Muay Thai matches if you fancy something a bit different.
Koh Phi Phi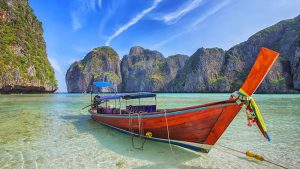 Perhaps the ultimate Thai island and one that appears on so many bucket lists, Krabi's Koh Phi Phi is often said to be among one of the most beautiful islands in the world. Although you certainly won't find it deserted, there are many good reasons to follow the crowds and head to Koh Phi Phi on your first visit to Thailand. Tackle the many steps up to Phi Phi viewpoint and you'll be rewarded with glorious views of twin curved bays backed by jungle and mountains — just be sure to take plenty of water, wear comfortable shoes, and time your climb for cooler periods of the day.
Beach bums can relax on beautiful white sands and swim in clear waters and there are numerous options for snorkelling and diving trips. One of the best ways to fully appreciate the island's majestic beauty is with a boat trip. Visiting places like the iconic Maya Bay — made famous in the cult movie The Beach — an island where monkeys run wild, and the Viking Cave, look beyond the hoards of other tourists and you'll see why the greenery-clad karsts rising from sparkling waters have made this such a sought-after destination.
Daring souls can try their hand at rock climbing, while those looking for a more relaxing experience can bliss out with a sensual massage. Accommodation ranges from the basic backpacker hut and hostel to luxurious resorts with all the trappings. Come evening time, there are regular fire shows, Muay Thai fights, and live music along the beach, with everything from casual beach bars to lively nightclubs to keep you up into the small hours. It may be cliched, but Koh Phi Phi really is a tropical paradise. The natural beauty and wide range of facilities make it one of the top islands to visit on a first Thailand trip.
Koh Samui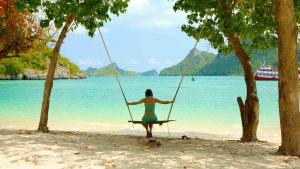 Koh Samui is one of Thailand's most upmarket islands. A top spot for honeymooners, it also attracts families, groups of friends, and solo adventurers. In addition to attractive beaches, visitors will find jungle-covered peaks and rural areas where buffalo graze in verdant fields surrounded by coconut palms and banana trees. Culture vultures can also get their fill.
Hin Ta and Hin Yai are among the island's most popular natural sights. Known in English as the Grandfather and Grandmother Rocks, the genital-shaped rocks raise plenty an eyebrow. Journey into the jungles and you'll find cascading waterfalls and rich wildlife. The fishing village at Bophut, while greatly commercialised and touristy today, offers snapshots into the workings of a traditional Thai fishing village, and Chinese-style shop houses are crammed with clothes and souvenirs. Wat Khunaram houses on of the island's most unusual sights: a mummified monk! Laem Sor Pagoda and the Big Buddha Temple are other revered religious attractions to add to your itinerary. The peaceful Secret Buddha Garden, filled with stone statues, provides awesome views over the island.
Koh Samui is home to numerous golf courses, making it one of Thailand's premier destinations for golf enthusiasts. The island is also known for its abundance of high-class spas, where you can truly be pampered with a huge selection of treatments and techniques. Koh Samui is the ideal first-time Thai island for anyone looking for a great combination of relaxation, sightseeing, and adventure.
Koh Phangan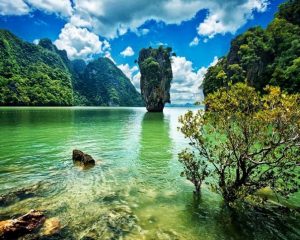 Famous for being Thailand's ultimate party island, Koh Phangan is known for its Full Moon parties and hedonistic vibe. It's often considered a must-do for young travellers on their first visit to Thailand. Daub yourself with neon body paint, wear clothes you don't mind getting trashed, and join in the revelry.
If partying isn't really your thing, or if you simply need some time out, it's easy to find quieter and relaxed beaches away from the party central of Haad Rin. For watery fun, check out the water park of Challenge Phangan, take a boat trip, or go snorkelling or scuba diving. Something of a hippie hangout in the past, today's Koh Phangan has numerous yoga retreats, meditation workshops, massage parlours, and places to refresh your soul. Additionally, Koh Phangan also boasts plenty of beautiful nature. Waterfalls include Thaan Prapaad, Sramanora, Thaan Sadet and Wangsai. Do note, though, that many waterfalls dry out in the dry season. Follow hiking trails through lush nature and to gorgeous viewpoints.
Pick up tasty treats and kitsch souvenirs at Thong Sala night market, and join a cooking class to learn how to replicate your favourite Thai dishes at home. Koh Phangan is a prime island for energetic first-time visitors, yet it also offers plenty to opportunities to unwind and get back to nature.
Koh Chang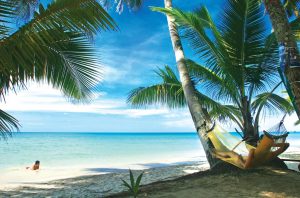 Koh Chang is a large island with plenty to see and do. Fringed by pristine palm-lined beaches, the island has a jungle and mountain exterior. It's an ideal island for combining adventures in nature with relaxing days of basking in the sun. Another reason why this island is ideal for your fist visit to Thailand is that it is just half a day's travel from the lively capital of Bangkok; there's no need to head down to the south for a terrific island experience.
With mid-level development, Koh Chang has perhaps a more rugged feel than other islands on this list, yet still has enough facilities and amenities for a comfortable holiday. There are plentiful accommodation options and a wide range of bars and restaurants to suit different budgets and preferences. When it comes to beaches, White Sand Beach, Kai Bae, Bailan Beach, and Klong Prao Beach are sure to delight. Snorkelling trips are a terrific way to explore the underwater world and keen anglers can join fishing trips.
Excellent hiking can be enjoyed in the wildlife-rich dense forests and scenic waterfalls. Klong Nueng, Klong Phu, and Kongoi are well worth visiting. Explore mangrove forests, visit local temples, step back in time in sleepy traditional villages, dine on fresh seafood, take a cooking class, and experience Koh Chang's awesome diversity.
Choose one of these islands for your first trip to Thailand or include a couple on your vacation; they're all perfect for Thailand newbies seeking that tropical-island vibe and postcard-worthy views.
👉 Let's plan a trip to Thailand!