Bangkok is a whizzing whir of people, food carts, skyscrapers, vehicles, and more people. With seemingly thousands of attractions, top sights, restaurants, neighborhoods, and more on "must-see" lists, how do you narrow down your Bangkok itinerary to see it all? The reality is, you can't. But where there's a will, there's a way, so put on your walking shoes and get ready to make the most out of your one day in Bangkok and get a taste – figuratively and literally – of everything this city has to offer.
Discover the History of Bangkok at the Grand Palace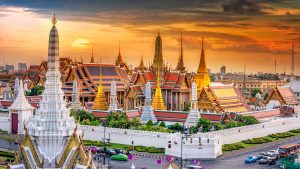 Start your day at the Grand Palace as it is a more slow-paced excursion outside the bustle of the downtown area so will leave you with energy for the afternoon and evening. Plus, the earlier you get there, the more likely you are to beat the crowds that swarm around the palace ground every day from 8:30am-3:30pm. Admission is 350 Baht, but you won't get in unless you adhere to the strict dress code. Both men and women must have elbows and knees covered, with closed-toe shoes. If you're one of the hundreds of tourists who show up every day not dressed appropriately, the palace and street side vendors are happy to rent you clothes for a fee.
Wat Phra Kaew or Temple of the Emerald Buddha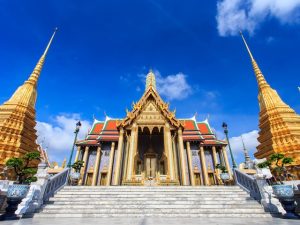 What you must take time to disrobe your feet for is the Emerald Buddha, which is housed in Wat Phra Kaeo, a radiant, sparking jeweled temple built in 1782. Inside this stunning temple, amidst an array of gold decorations, sits the Emerald Buddha, who is not actually Emerald at all. The statue is made from jade, though the original discoverers of the statue thought it was emerald due to its green color. The Emerald Buddha sits at just 75 cm tall, but commands attention with its impressive wardrobe, which is changed seasonally. The off-season wardrobes can be seen in the Grand Palace museum.
Wat Pho or Temple of Reclining Buddha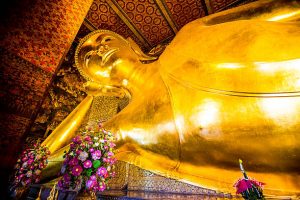 If you're disappointed by the small size of the Emerald Buddha, you're in luck. Just a short walking distance south of the Grand Palace is Wat Pho, the oldest temple in Bangkok – built in 1781 – and which houses the remarkably giant reclining Buddha, a golden statue sprawling through the long temple. Wat Pho is open daily from 8am-6pm and admission is 50 Baht.
Wat Arun or Temple of Dawn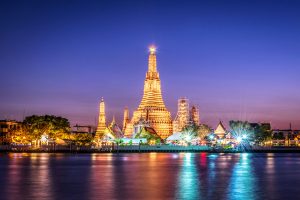 Wat Arun Ratchawararam, meaning Temple of Dawn, is also know locally as Wat Chaeng. The temple, which is named after the Indian God Aruna (God of Dawn) sits majestically on the Thonburi side (west bank) of the Chao Phraya River and is easily one of the most recognizable and memorable landmarks of Bangkok's skyline. The most spectacular view of the glittering monument can be seen from the east side of the river at sunset as Wat Arun's colorfully decorated spires sparkle radiantly over the water.
Street Food in Bangkok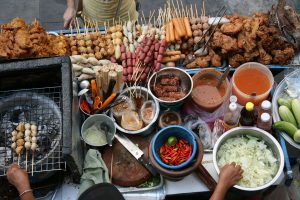 After learning about Thai culture in those temples, your stomach is growling, time to explore Thai cuisine. Highlighted here is a Bangkok food staple – street stall cuisine. Choose from an array of food, such as impossibly tender pork on a stick, Tom-Yum soup served fresh and hot, chicken breast roasted and marinated onsite, and a bunch of other food stands that look scary from a hygiene perspective, but are worth getting over any hesitations. The food is amazing – and incredibly cheap.
Shopping in Bangkok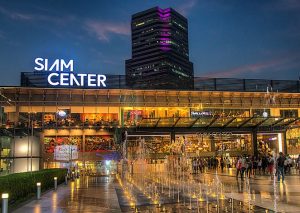 After your history lesson, you're ready for a modern-day cultural lesson: shopping. Yes, you may only have one day in Bangkok so shopping may seem a silly way to pass the time, but the essence of Bangkok's social culture is found in Bangkok's malls.
From the cheap stands lining the mall floors to the behind closed doors allure of designer shops to massive food courts, Bangkok highlights the upper class lifestyle Bangkok's citizens are striving for and achieving – and socializing outside the doors of luxury if they can't. The pathways of malls are lined with locals lounging on benches, hanging out, having conversations, and sometimes browsing in the stores. Siam Paragon, Siam Central, Central World, MBK, Pantip Plaza, Pratunam to name a few.
Nightlife in Bangkok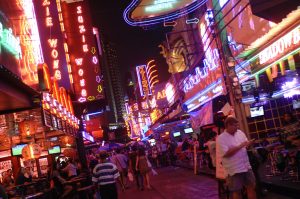 Rooftop bars, chill hangouts, dance shows, and more await you if you're lucky enough to spend the night in Bangkok. The aforementioned Sky Bar at the top of the State Tower building is amazing to go to for one or two drinks as it offers vertigo-inducing views of the city from its clear ledge rotunda on the 64th floor of the building. Be warned: stay for much longer than a couple drinks and you'll quickly have a hurting wallet. And no jeans or flip-flops, they have a strict dress code.
Any discussion of nightlife in Bangkok can't ignore the party scene at Khao San Road, or the more laidback Soi Rambuttri next door, whilst Thonglor across town seems to have a trendy new bar opening up every week. Clubbers in Bangkok are spoilt for choice too, with big names on Sukhumvit, Silom and the gauntlet of superclubs at RCA all packed-out with tourists and locals most nights of the week.