Thailand's beauty is indisputable, but it is not all about white sand beaches and clear waters. The country also offers ancient sites, stunning temples and fascinating urban areas. Travelling to Thailand is a breeze, as the country has a tourist-friendly policy as well as a vast network of infrastructure and hotels that cater to a diverse array of business and leisure travellers.
Chiang Rai:

Located at the northern tip of the country, beautiful Chiang Rai is often underrated, even though it boasts some of the most intricate temples in Thailand and is a gateway to the Golden Triangle. Don't miss out on the White Temple with its macabre skulls and bones welcoming you at the entrance, and the fascinating futuristic paintings inside. Also try rock climbing, cycling around town, walking around the colorful street fairs during the weekend; or head to Khun Korn to see the spectacular waterfall.
Chiang Mai: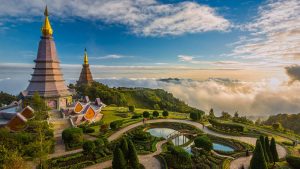 Chiang Mai is a land of misty mountains and colorful hill tribes, a playground for seasoned travellers, a paradise for shoppers and a delight for adventurers. With a buzzing city center and sprawling mountains just outside its core, backpackers, expats, and Thais alike all flock to this charming city. In addition to adventurous excursions and delicious eats found throughout the city, Chiang Mai is a historic grove of temples, Lanna-style architecture, shrines, and more. One of the most historic areas of the city is the village of Wiang Kum Kam. It is home to a number of temples, and this area was actually the capital of the Lanna Kingdom until Chiang Mai replaced it.
Ayutthaya: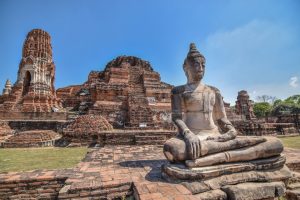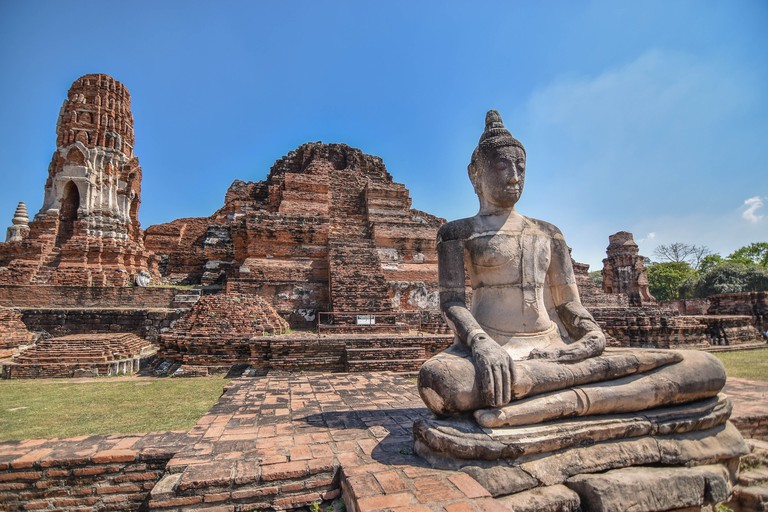 Ayutthaya became the second capital of Siam in 1350. Its location between India, China and the Malay archipelago made the town a strategic trading capital in Asia. Although most temples had been destroyed in a fire set by the Burmese in the 18th century, the skeletal remains still remain in the city, and visitors are able to meander through and explore the amazing architecture, these are enough to give visitors a good glimpse into what this majestic city would have looked like back in the day. Reliquary towers and grand monasteries can be seen in this UNESCO World Heritage Site, which can be visited as part of a day trip from Bangkok.
Kanchanaburi: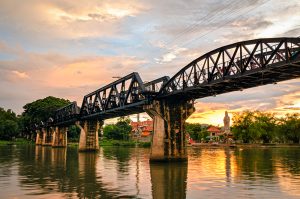 At the edge of stunning mountains in the West of Thailand lies Kanchanaburi, a charming little river town that is definitely worth a visit. It is best known for its bridge over the river Kwai, and is of particular historical significance due to its connections to the Burma Railway, also known as the Death Railway, where countless of war prisoners died while constructing it during Japanese occupation. The bridge over the Khwae Yai River is also a picturesque place with a deep story which is featured in a number of films. This bridge is a testament to those who suffered here and were forced to build it during the war, under appalling conditions. When visiting Kanchanaburi, it is also worth taking a trip to the nearby national parks for their impressive caves and waterfalls.
Krabi: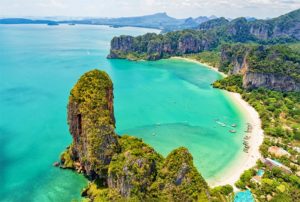 With crystal-clear waters, untouched beaches and breathtaking cliffs (which are ideal for rock climbers), Krabi is one of the best beach destinations on the southwest coast of Thailand. For nature and adventure lovers, Krabi also offers scuba diving, snorkeling, and kayaking opportunities. This is a beach town you would not want to miss, with nearby temples and waterfalls that add to the beauty of the place. In addition, it has some of the best sunsets in the country, which you can see from nearby Railay Beach.
What are you waiting for? 👉 Let's plan a trip to Thailand!