Ecotourism is a travel trend skyrocketing globally. A significant majority of travelers want to engage more in local conservation, and activities that promote the preservation of culture sustainability. However, they didn't know where to start. Here's our round-up of the best Thailand has to offer.
The elephant nature park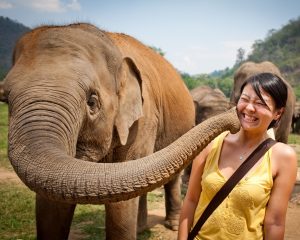 First opened in Chiang Mai in the 1990s, the park has consistently provided a sanctuary and rescue center for mistreated elephants nationwide. Tourist demand to engage with the treasured national animal has led to an industry that is highly exploitative, working elephants for incredibly long hours or promoting activities like elephant riding that injure the animal and shorten its lifespan. The Elephant Nature Park invites the public to learn about this endangered species and interact with them in a responsible way. The success of the Chiang Mai Park has spurred the growth of franchised centers in Phuket, Koh Samui, and Cambodia.
Mon – Sun:
7:00 am – 5:00 pm
209/2 Sridronchai Road, Phra Sing, Chiang Mai, 50200, Thailand
New Heaven Reef Conservation Program
Located on the diving paradise of Koh Tao, this organization conducts a full range of marine conservation activities—from the maintenance of artificial coral reefs to the care of baby turtle hatching—and provides opportunities for budding conservationists of all levels to participate in daily projects. From one-day immersion experiences to several-month-long internship programs, there are options to get involved regardless of your itinerary or available time commitment. An advanced scuba license is required, but they can help you achieve that, too.
Mon – Fri:
9:30 am – 4:30 pm
48 Moo 2, Chalok, Chumphon Koh Tao Ban Ko Tao, Thailand
The gibbon rehabilitation project
Founded in Phuket as a research division of the Wild Animal Rescue Foundation of Thailand, the Gibbon Rehabilitation Project aims to rescue and rehabilitate illegally captive gibbons, prevent the species' mistreatment, and educate the public on the illegal wildlife trade. The park grounds are open to the public with volunteers offering guided tours and information about the individual animals on-site, with longer term volunteer opportunities available. The project also depends on public participation – it asks for any sightings of gibbons used for tourist photo-ops—a strictly illegal activity—to be sent to their e-mail so the group can follow up.
Sun – Sat:
9:00 am – 4:30 pm
104/3 Moo 3 Paklock, Talang, Phuket, 83110, Thailand
The Soi Dog foundation
Attitudes toward dogs in Thailand have changed gradually over the years. Low awareness of canine disease, care, and availability of sterilization treatment has led to an estimated 8.5 million "soi dogs," or street dogs roaming around the country. Today, the Soi Dog Foundation is one of the largest organizations that fight for the humane management of Thai street dogs, tending to their medical needs and working to find forever homes at home and abroad. Based on Phuket, the organization is always looking for volunteers to help "socialize" the new rescues—who often arrive to the shelter very shy of human interaction—and "flight volunteers" that help check in the animal at the airport bound for its new family abroad, at no extra expense to the volunteer.
Mon – Fri:
8:00 am – 5:00 pm
167/9 Moo 4, Soi Mai Khao 10, Tambon Mai Khao, Amphur Thalang, Phuket, Thailand
Bangkok tree house
Constructed of eco-friendly materials and powered by natural energy sources, the property has integrated zero-waste goals into every aspect of its operation within the "Green lung of Bangkok" – the city's last natural frontier situated right in its center. Wall insulation is made out of upcycled juice cartons; reclaimed wood makes up the walkways; 100% of outdoor lights are powered by wind and solar energy; all kitchen waste is composted; amenities are all locally sourced; "air cleaning plants" are grown in guest rooms to purify the air. What's more, the property sources all guest amenities from local, eco-friendly businesses and commits to the removal of one kilo of trash from its Chao Phraya River per booking.
Address: 60 Moo 1 Soi Bua Phueng Pattana, Bang Namphueng, Phra Padaeng, Samut Prakarn, Amphoe Phra Pradaeng, Chang Wat Samut Prakan Bangkok, 10130, Thailand