Buddhism is the main religion practiced in Thailand, so its no wonder that the country is simply teeming with temples. While travelers enjoy visiting these temples for the photo ops and some great sightseeing, these ancient wats (temples) play an important role in the everyday lives of many religious Thais. So, take at look at these temples you must visit while traveling in Thailand.
Wat Pho
Wat Pho, or the 'Temple of the reclining Buddha', is the largest and oldest temple in the City of Angels. Wat Pho is most famously known for the reclining Buddha it houses in the compound's main sanctuary, which sits at 46 meters long and 15 meters high. After being wonderstruck by its enormous Buddha, explore the grounds of Wat Pho in its entirety to see the stupas, all towering high and glistening with color. A traditional Thai massage school calls the grounds of this temple home, so visitors can relax and de-stress after a long day exploring Wat Pho and the surrounding area. There's a ฿100 entrance fee (about $3).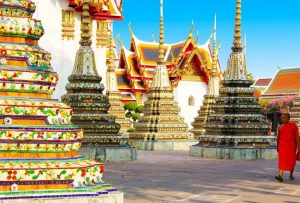 Wat Phra Sri Sanphet
One must-do day trip from Bangkok is Ayutthaya. The city was named a Unesco World Heritage Site in 1991, and is home to some of Thailand's most spectacular temples. One of these temples is the stellar Wat Phra Sri Sanphet. This monastery is said to be one of the most important temples in Ayutthaya, and it's located within the royal palace grounds. One of it's most striking and well known features are the large, bell-shaped pagodas that sit at the heart of the ruins on a rectangular platform. Small ruins surround these three pagodas, which were believed to have been the base of royal houses during the Ayutthaya period.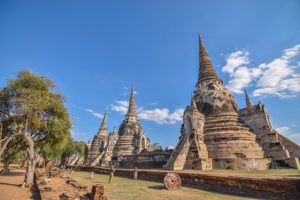 Wat Arun
Overlooking the Mae Nam Chao Phraya is Wat Arun, or the Temple of the Dawn. The reclining Buddha that now calls Wat Pho home used to reside here but was later moved to its current location. This temple is made up of five towers, one of which visitors are allowed to climb some ways up in order to get a better view of the surrounding area. Each tower, or prang, is decorated with bright porcelain pieces and ceramic tiles. Because this temple sits right on the waterfront, there are some amazing restaurants you can sit down and enjoy a meal at while admiring one of Thailand's most famous temples. The admission fee is ฿50 entrance (about $1.50).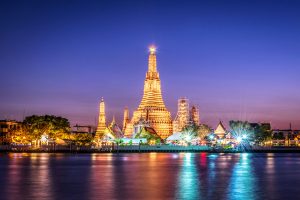 Wat Pha Sorn Kaew
About five hours north of Bangkok is Wat Pha Sorn Kaew, or the 'Temple on a high glass cliff'. This temple is typically not part of the shoestring itinerary many travelers follow because of its obscure location. If you have the time, however, this is one of the most striking temples in Thailand. Construction began in 2004 but it was only recently opened and still sparkles like new, with millions of colorful mosaic tiles decorating the main pagoda and surrounding buildings. The temple overlooks the surrounding mountainous area, which makes for one incredible backdrop. The five white Buddha statues sit in stark contrast against the colorful surrounding buildings.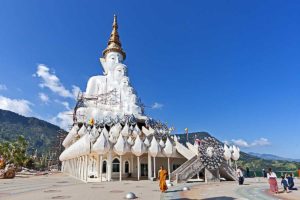 Wat Phra That Doi Suthep
Wat Phra That Doi Suthep is extremely popular and for good reason. You'll find it in the north of Thailand, just outside the main gates of Chiang Mai. This temple attracts packs of visitors every day, so we suggest visiting early to beat some of the crowds. Visiting this temple takes some gumption, as you first have to scale a spiraling, winding road then tackle a fleet of stairs before finally arriving at Wat Phra That Doi Suthep. There's a ฿30 entrance fee (a little less than $1).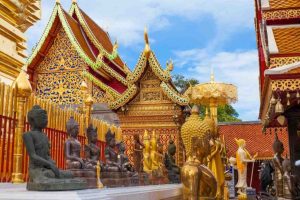 Wat Rong Khun
Wat Rong Khun, or the 'White Temple,' is somewhat of a trek to reach in comparison to the other temples on our list. That being said, this spectacular, dazzling white temple surely deserves every ounce of effort taken to reach it. The temple sits outside the northern city of Chiang Rai, starkly contrasting against surrounding green foliage with its dazzling white exterior. The white plaster signifies the purity of the Buddha, while the glass that covers these walls represent Buddha's wisdom. The temple is still undergoing additional construction which was delayed after an earthquake hit Chiang Rai in 2014, and the temple was in need of structural repairs. Admission into the temple is free.