Paired with a relaxed atmosphere and exceptional sense of hospitality, Laos, sandwiched between Thailand and Vietnam, has a lost-in-time quality. French colonial buildings line the streets of the country's capital, Vientiane (Laos was part of French Indochina, along with Cambodia and Vietnam, from 1893 to 1953), while monks ask for alms in the streets of Luang Prabang, a town recognized by UNESCO as a World Heritage Site.
Since 1975, Laos has been a communist state, and while the lack of development has had costs for the country's citizens, for visitors, it has helped make the country a unique destination. "It is a corner of Southeast Asia where there still aren't any global fast food chains. It is largely untouched, and the Lao people have a graciousness that exceeds even that of the famously-welcoming Thais."
This appealingly sleepy and charming country may soon change with the arrival of a high-speed train from China, expected to be completed in three to four years, so don't put off your visit to Laos.
Where to go
The principal destinations are Vientiane, the country's capital; Luang Prabang, a charming town near the point where the Mekong and Nam Khane rivers meet; and between the two, the Plain of Jars, where thousands of prehistoric enormous stone jars dot the landscape.
(Though how and why they were carved is a mystery, archaeologists believe they were associated with ancient burial rites.) Whatever itinerary you follow, easing into the Lao attitude "Life is slow here."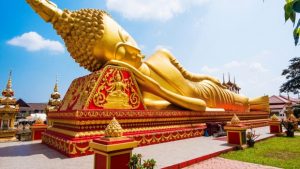 What to do
While Vientiane is the country's largest city, it lacks the bustle—and chaos—of some other Southeast Asian metropolises like Bangkok and Saigon. Instead, you'll find wide boulevards dating from the French colonial era, and even older Buddhist temples. The golden stupa of That Luang is one of the most famous symbols of the country, while Wat Sisaket, a buddhist cloister, is noted for its some 6,800 statues of the Buddha. The enormous Patuxai, or Victory Arch, is another of the city's landmarks. Shoppers will find crafts like those at Lao Textiles, whose owner has worked to revive the country's ancient silk-weaving tradition. This appealingly sleepy and charming country may soon change with the arrival of a high-speed train from China, expected to be completed in three to four years, so don't put off your visit to Laos.
Home to fewer than 60,000 people, Luang Prabang, with its temples and palaces, is one of the undiscovered jewels of Southeast Asia. Look for the processions of saffron-robed monks who traverse the town each morning asking for alms. The National Museum, in the former palaces of the Lao kings, houses religious treasures and artifacts. Mount Phousy, a hill in the center of town, is popular for afternoon strolls. Outside of the town itself, the waterfalls at Kouang Siare the most picturesque of the many in the area.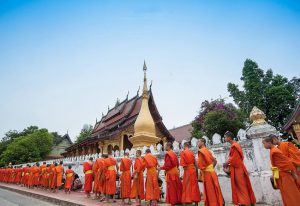 Travelers in search of crafts—especially textiles—will want to shop in the Hmong and night markets. Try getting one of the tailors to turn one of the fabrics into custom shirts, skirts, or duvet covers suggests Ferguson.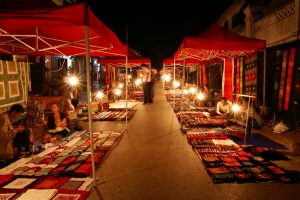 What to eat
While Americans are familiar with Thailand's curries and noodle dishes, and Vietnamese banh mi are no longer a novelty, the cuisine of Laos has yet to make the same inroads. Lao cuisine has many regional variations, due in part to the fresh foods local to each region. You can either enjoy and authentic Lao meal (khao niew or sticky rice is a staple) in many of the restaurants or spend a morning to cook delicious Lao dishes for your lunch.
Lao food is traditionally eaten with sticky rice using fingers. In the countryside, people all eat as family style, sitting on the floor, sharing a few dishes. Lao traditional food is dry, spicy and very delicious based on fish, buffalo meat, pork, poultry and especially herbs. It is always being freshly prepared and not being preserved. Other than sticky rice, which can be eaten either sweet or sour, or fermented and is eaten with fingers, Laotian food is very rich in vegetables and is often browned in coconut oil.