The "Coronavirus" disrupted life in ways that were unimaginable just a few months ago. But industries will start coming back and people will start going out again. We are living through history and we'll come out on the other side of this. Your travel dates have probably been on hold, but your dreams and plans certainly don't have to be…
As you may know, tourism is one of the industries that has been hit hardest in the coronavirus crisis but what we're most proud of is that we don't lose our hope in Covid-19 pandemic, through these difficult times, we're managing to stay calm and productive in anticipation of the day when we'll be able to welcome back our guests.
We understand how you have been waiting to jump on a plane and head to a destination for an unforgettable vacation, therefore, there are no reasons for you not to book your holiday to Southeast Asia. Vietnam, Laos, Cambodia, Thailand and Myanmar are waiting for you…
At this time, a private customized trip will be the best choice for you because you don't have to share your car with the people you don't know, just you and your family or your partner. You will have a safe environment and a peace-of-mind time in our Asia.
It's easy to plan your trip with us because we create your tailored trip free of charge and non-binding. You can modify the itinerary several times until you are pleased with your private trip, our travel consultant will be with you anytime to help you with your travel plan.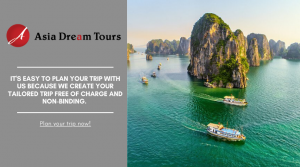 Your departure date will be flexible and so will our terms and conditions. You can then change your travel time free of charge as many times as you like, until you decide to purchase the international flights to our destinations. You are not committing to buy anything until you are ready and happy with our work. Deposit only be required until there are no more threats of Covid-19 in the destinations that you will visit during the tours.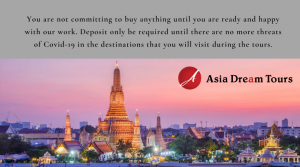 When you join one of our trips, we want you to have peace of mind. We want you to know that, if circumstances change, we've got your back. If you book a trip and ultimately decide that it's not the right time to travel, we'll help you update your plans by transferring your reservation to a future date, or to another trip, without cancellation penalties.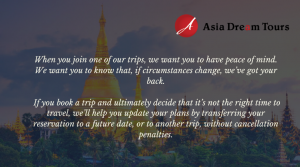 And the most important thing is we have many offers for your next trip: huge discounts, welcome dinner, free foot massage, free visa letter… (please contact our travel consultant for more infomation).

We prioritize your safety above anything else so there's no reason you should continue to put a hold on vacation planning. Now is the best time to start researching those dream trips. Depending on your situation and intended destination, perhaps the time to rebook has already arrived…
Asia Dream Tours are here to help you to organize your trip, to stay on budget and to enjoy a hassle-free tour!