The coastal Vietnamese town of Hoi An is known for its sleepy atmosphere and strong French influence. It's a great spot to relax between bustling capital cities, but that doesn't mean there's nothing to do.
In fact, the reality is quite the opposite. Here are just a few suggestions to get you started.
When should I visit Hoi An? What is Hoi An weather?
Typical for the tropical climate of Vietnam, Hoi An city possesses warm weather the whole year with its average temperature of 29 Degree Celsius. The city only has two main seasons: rainy and dry seasons instead of four seasons like in Northern Vietnam.
Hoi An's dry season from February to May is the best time to visit the town, since its weather becomes very mild and beautiful with moderate temperature, low humidity, less rain and warm sunshine
If you are lucky enough to arrive at the town on the 14th day of a lunar month, Hoi An will be much more charming with its Full Moon Festival and "Old Street Night" exclusively available on that day.
Top destinations and things to do in Hoi An
1. Japanese Covered Bridge
The Japanese Covered Bridge, which dates back to the 18th century, is one of the most prominent attractions in Hoi An Ancient Town. Spanning 18 metres in length, locals believe that it was built by the Japanese then living in Hoi An as a way to reach the Chinese quarter across the water. In 1719, Lord Nguyen Phuc Chu officiated the bridge by carving three Chinese symbols above the entrance. The Japanese Covered Bridge also features intricate sculptures of two dogs and two monkeys to represent the birth years of prominent Japanese Emperors
2. Admire the Fujian Assembly Hall (Hoi Quan Phuc Kien)
The 17th century Fujian Assembly Hall is one of the grandest buildings in Hoi An. Constructed as a social and sacred space for the Fujian Chinese community of Hoi An, the Hall features features a massive gateway adorned with colorful carvings of Chinese mythological figures, and an impressive main courtyard. Local people frequently come to pray at the Fujian Assembly Hall when they want luck in conceiving children, and you will find twelve "midwives" among the pantheon of statues and carved figures throughout the Assembly Hall grounds.
Location: 46 Tran Phu Street.
3. Hoi An Museum of History & Culture
Where the Thu Bon River flows directly into the East China Sea, Hoi An was once one of the major Asian trade hubs. From the 16th to 18th century merchants visited from across the globe, stopping by as they awaited a change in weather before moving on. Traders from France, Portugal and the Netherlands mingled with those from Japan, China, Thailand, India and Vietnam along the bustling streets of Hoi An's old town.
Most of The Riverside Museum of History and Culture is a celebration of this period although there are objects on display representing historical and cultural changes before and after the trading years. There are also an assortment of ceramics and historical photographs and drawings depicting the merchant period including some pottery items that were part of the traders' wares. Other exhibits predating this time are an array of Cham artefacts including bronze temple bells and gongs.
Location: 13 Nguyen Hue Street
4. Tan Ky Old house
Located: 101 Nguyen Thai Hoc Street, in the Old Quarter of Hoi An Ancient Town, Tan Ky
Old house is an almost perfect example of a 18th merchant's residence in this major commercial port town. The name Tan Ky, meaning "Progress Shop", was given to the house by the second generation to express the owner's wish for a prosperous business.
If you're near the Japanese Bridge, walk down Bach Dang Street into Nguyen Thai Hoc Street. It's suggested to visit the place at the beginning or end of the day, not in the middle. Having a cup of coffee at one of the coffee shops near the house is also told to be interesting while exploring this attraction.
5. Hoi An Museum of Trade Ceramics
Hoi An Museum of Trade Ceramics is set within a restored timber house along Tran Phu Street, displaying a vast selection of foreign ceramics with detailed English-written descriptions. Offering a cultural insight into the history of Hoi An and foreign relationships with countries such as Japan, China and India, these artefacts mainly date back between the 8th and 18th centuries.
6. Hoi An Art Craft Manufacturing Workshop
This 200-year-old house has 30-minute musical performances at 10:15 and 3:15 daily. In the workshop, talented artisans craft lanterns, carve wood, shape pottery, and embroider silks, all of which can be purchased onsite.
The workshop also has guides that can explain the history of the individual crafts and give insights into the techniques used by the artisans. Catering to the tourist population of Hoi An, the workshop emphasises traditional Vietnamese culture and offers performance shows daily, including dance, music, theatre and song.
Tickets are available on the corner of Bach Dang and Chau Thuong Van beside the Japanese Covered Bridge. Hour-long craft workshops run daily (bookable onsite), and are great for kids.
Location: 9 Nguyễn Thái Học, Minh An, Tp. Hội An, Quảng Nam
7. Sunbathe on An Bang beach
Hoi An's most famous beach is Cua Dai, west of the city, but you should head to An Bang instead if you want some peace in the sun away from hordes of tourists. Slightly north of Cua Dai, An Bang is home to stretches of pristine white sand, and beachside restaurants. Visitors can even opt to stay in a beachside villa, for a romantic getaway or some time to meditate in beautiful surroundings.
8. Swimming & Snorkelling at Cua Dai Beach
Cua Dai Beach offers a relaxing seaside escape from the ancient streets of Hoi An. Boasting three-kilometre stretch of white sand and gentle waves, the beach is relatively quiet most of the time apart from weekends and public holidays. After a day of swimming, and snorkelling, Cau Dai Beach is also worth staying for dinner at the numerous seafood restaurants located around the coast. Easily accessible via taxi or xe om, Cua Dai Beach is a 15-minute drive from Hoi An Ancient
9. Van Duc Pagoda
Van Duc Pagoda dates back to the late 17th century, where locals pray to Buddhist deities such as Amitabha Buddha, Dia Tang Bodhisattva, and Avalokitecvara Bodhisattva. Hailed as one of Hoi An's oldest Buddhist temples, the yellow-hued establishment is fitted with three worship halls, intricate animal sculptures, paintings of deities, potted plants, and plenty of shady trees. Its peaceful surroundings draws numerous visitors looking to pay their respects, get fortunes told, or simply marvel at the well-preserved architecture. On full moons and auspicious celebrations, you can also see local monks releasing paper lanterns into the river whilst chanting prayers.
Opening Hours: Daily 08:00 – 18:00
Location: Dong Na Village, Cam Ha Commune, Hoi An
10. Explore the countryside
Hoi An is surrounded by lush, green countryside, and it would be a shame not to venture out of the city during your stay. Numerous cycling and trekking tours are on offer in Hoi An, which take participants out to rice paddies, hills, villages, and pristine beaches. More adventurous travelers can opt to rent a vehicle and try a day trip out of the city, and perhaps even head north to nearby Danang, where the beautiful Nui Son Tra peninsula is located.
11. Walk at Hoi An Ancient Town
Hoi An is a UNESCO World Heritage site because it's an incredibly preserved ancient trading town from the 15th to the 19th centuries. The homes and colors of the streets are all indicative of the many cultural influences upon this tiny port town. The architecture and the streets are small and narrow so it's fun to spend hours simply wandering the streets in and out of shops and cafes.
12. Take a Trip To My Son
If you haven't been to Cambodia and seen the ruins at Angkor, here in My Son, you'll find Champa ruins similar to those in Angkor.
My Son is quite close to Hoi An so you can reach My Son either on bicycle or through driving.
Summers in Vietnam are brutal and although we went to My Son in March, it was still dreadfully hot. I can't imagine the peak of summer. We were too miserable to really even enjoy it. Perhaps mornings or late afternoons are a better time to go in the middle of the summer if you must. But just be mindful of the heat. Vietnam gets hot.
13. Cham Island ( Cu Lao Cham)
What appeals to tourists in Cham Island is its wide variety of leisure activities in a picturesque and pristine setting. Traditional forms of recreation range from swimming on crystal-clear beaches, sunbathing on long-stretching white-sandy coast to exploring the forest. For those who are interested in marine life exploration activities, there are available facilities for water sports like: swimming, water skiing, paragliding, kayaking, kite flying, boat racing and scuba diving. This kingdom of aquatic animals is a collection of marine algae, sea grass, sea creatures and especially coral reefs. Tourists are expected to encounter a beautiful marine world with an abundance of colorful fishes, lobsters, mollusks under the clear water-surface.
TOP THINGS TO DO IN HOI AN 
1. Hoi An Food Tour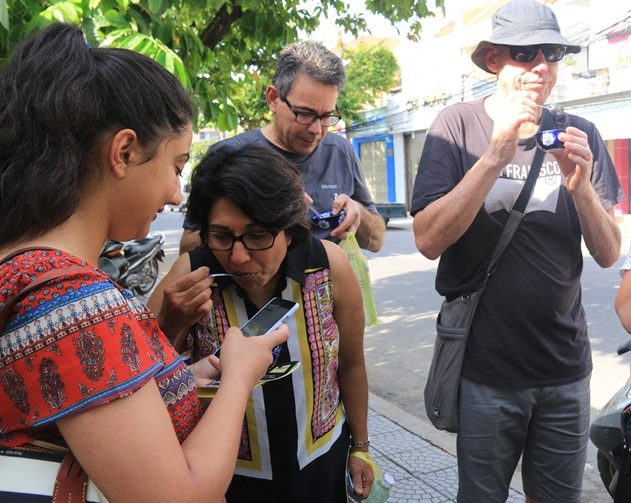 Vietnamese food, we still learned a lot from this tour. The local insight is great and you'll be sure to fill up on some excellent food.
2. Visit the banh mi Queen
If you're new to banh mi, picture this: an unbelievably crusty baguette, filled with pork, salad, egg, and a number of mystery fillings that somehow make the roll not only indubitably Vietnamese, but so delicious that a regular sandwich will never satisfy you again.
A trip to Hoi An would be incomplete without a visit to Madam Khanh, the Banh Mi Queen: a fierce older lady who rules her shop like – well, you know. Her cart is a 10-15 minute walk from the centre of town (or a short taxi ride), and is open for business every day. It's less than $2AUD per roll, with an extra 50c or so for a beer. Cheap, delicious bliss.
3. Get tailored cloth in Hoi An
One of Hoi An's biggest tourist drawcards are the tailors that line the streets in the centre of town. Fancy suits and dresses, t-shirts, bags, leather shoes – whatever you want made, someone can make it happen.
Items that are pricey back home, like suits and gowns, are drastically cheaper, and everyday clothing can be anywhere between low and average price depending on the quality you are after and detail required. The best part is, almost all tailors in Hoi An offer free fittings and adjustments until it is perfect.
If you do plan on getting clothing made, make sure you do your research and shop around. Try a few different shops, get quotes before settling (and try to haggle), and ensure you ask how quick their turnaround is (most are around 24-48 hours).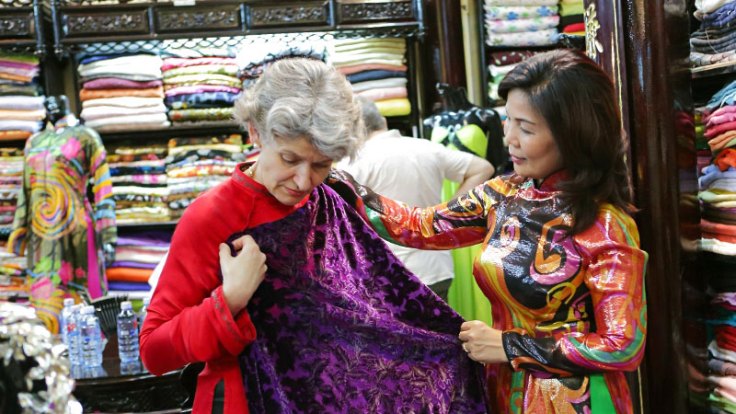 4. Get cooking Classes
Cooking classes are a tourist rite of passage in Vietnam, and you can do one in any city. But, there's something about the soothing pace and slightly less commercial feel of Hoi An that makes it the perfect spot to get out the chopping board and learn what on earth is actually in a bowl of pho.
There are many different classes on offer – some are done by private providers, others are offered through restaurants in town.
They also allow you to choose your own menu, which is generally 3-4 traditional dishes for around the price of a standard meal.
5. Explore the riverside
If you're wandering through the centre of Hoi An, you are likely to pass by the shore of the Thu Bon River. There are hundreds of market stalls lined up next to the water: jewellery, trinkets, clothes, seafood – you name it, you'll find it there.
Buy some tamarinds to crack open and chew on, grab some presents for family members. Pretend not to be interested in the cheesy tourist shirts ('Good morning Vietnam!') and then buy one in four different colours. Avoid the ladies who ask if you'd like your nails done on the side of the road, and as the locals suggest, hold onto your bag – tight. Take up a shouted offer for a boat ride.
If you tire of the hustle and bustle, duck into one of the cafes along the riverfront. Sit down out of the heat and grab a drink, or order some cao lau – the delicious traditional noodle dish of Hoi An. Wait for the sun to go down, and watch the streets light up with colourful lanterns.
6. Tra Que Vegetable Village
Tra Que Vegetable Village is a must for anyone interested in truly absorbing the maximum amount of culture. One of the things I love the most about Vietnam is its simple and organic reliance upon the Earth. Its cuisine is so earthy and natural. Nothing is overly processed and the dishes emanate the most aromatic enticing smells. You can walk to the local market and find herbs that just don't exist in the West.
Tra Que Vegetable Village offers amazing insight into the healthier and simpler lifestyle in Vietnam. At Tra Que Village, in addition to local farm tours, you can also take cooking classes
7. Stay Local
Where you stay can make or break your entire trip. Hoi An offers a selection of different kinds of accommodations. The first time we went to Hoi An, we stayed at a typical beach resort called the Hoi An Beach Resort.
Our last trip, we stayed at local place in the rice paddies called Hoi An Ancient House Village Resort and Spa.
Both of these places are totally different, but we enjoyed the second place a lot more simply because it felt more local. There are a lot of beautiful beach resorts in the area, but don't be tempted to stay at a flashy place simply because it look the nicest. All in all, we enjoyed the local experience better. And besides, the room at Ancient House was a lot more gorgeous. Although I'm tempted next time to check out the Nam Hai but it's a bit far away in Da Nang, although its reviews are outstanding.
8. Get some perspective
Honestly, one of the coolest ways to soak in Hoi An is to see it from above. If you're a photographer, this is a no brainer, but photographers are often experts at seeking out novel perspectives.
The dense network of buildings and homes make for a fascinating display of color, textures, and contrasts. The best way to view the different perspectives of the city is to simply wander Old Town and to snag a seat at a second or third-floor restaurant.
9. Treat yourself with a cup of coffee
You've stuffed your fact with baguettes and noodles, you've bought as many clothes as your baggage allowance can take, and you can't quite face another market stall. Now, dear traveller, it's time to treat yourself.
Pick a quiet cafe in the centre of town, and try some sweet Vietnamese coffee. If you've been there, done that, and are feeling a little adventurous, find somewhere that does egg coffee – Cafe 57 is a favourite. Just make sure you prepare yourself: it's condensed milk, sugar, coffee, and raw egg (yet somehow, delightful).
If you fancy something a little more hands on, get a massage. Pandanus Spa is a good pick – they offer traditional massage, and almost any other relaxation treatment you can think of. Or, head to one of the temples in town (Quang Trieu and Fukien Assembly Halls are much-loved) and get some peace and quiet
8. Visit Hoi An Traditional Silk Village
If you are fortunate enough to take in the splendor that is Hoi An ancient town in Quang Nam Province should not miss a new tour to Lang Lua (silk village) by Quang NamSilk Company at 28 Nguyen Tat Thanh Street.
From an idea of an original Quang Nam people who has long time attached to silkworm and mulberry tree in Duy Xuyen Commune of Dai Loc District, the village was born to restore the culture of weaving fabric career and to provide tourists more knowledge on the history of this traditional career. Hoi An in the past was a port shipping silk to the world. Local people take pride of the place where the silk road on the sea took shape.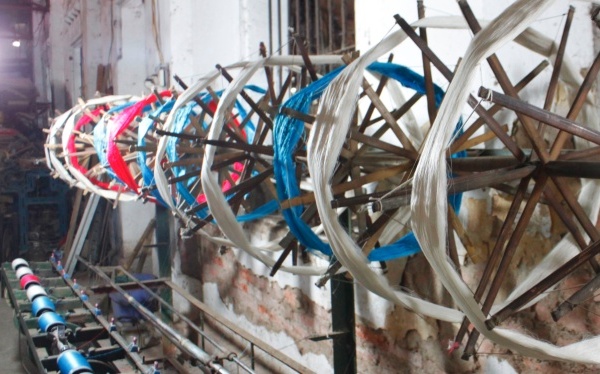 The village is where tourists can get a glimpse into the making process of Quang Nam's traditional silk and Cham people's brocade cloths. Tourists to the venue can study 40 kinds of mulberry, ancient styles of looms and silkworm breeds, among others.
THINGS TO DO IN HOI AN – WHAT TO EAT IN HOI AN
1. Fried Green Sentinel Crab Cake
The first food stall we discovered was full of fried snacks. My eyes immediately locked in to the fried crab cakes, which you can see in the photo above is full of claws. I bit into it not knowing what to expect and it was juicy, meaty, and crunchy. The meat was so rich and in some sections, I had a taste of delicious crab butter. The type of crab used is a green sentinel crab, which have an edible shell and are meatier than other sentinel crabs. The flour used is made from corn from Cam Nam and new rice grown near the Thu Bon river.
Location: Nguyen Thai Hoc, Tran Phu, and Bach Dang streets in the afternoon.
2. Banh Canh Trung with Papaya Salad
Our first sit-down street food meal in Hoi An was delicious and the most memorable moment for me. This little food stand setup is owned by a sweet and happy looking mother-daughter duo. I was drawn to the outdoor cooking action and the large silver bowl filled with fried goodness, so we went to take a look and they kindly welcomed us in.
Their specialty is banh canh trung, which are small fried turmeric rice flour pancakes with an egg inside, served with pork sausage, grated papaya, herb vegetables and nuoc cham (fish sauce). Each banh canh is fried in a mini muffin-like tray of aluminum or stainless steel to mold it into shape. It's served on a bed of herbs and lettuce, then topped with pickled grated papaya and a lovely sausage. This is one of my favorite dishes from our entire Vietnam trip because you get a bit of everything in one bite – crispy, savory, sweet and sour.
There are different variations of banh canh trung throughout the country. I'm familiar with banh khot from the south side, which are thicker pancakes that have a coconut milk batter and shrimp filling.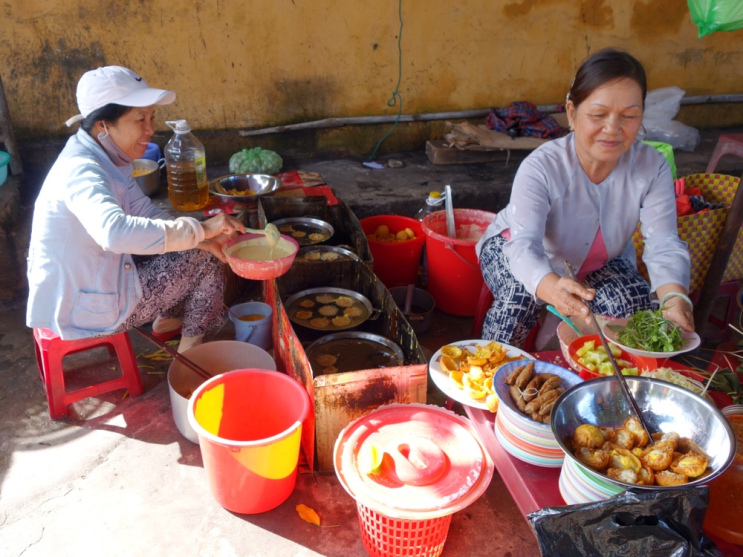 Price: 10.000 vnd (~$0.50 cents a plate)
Location: Corner of Tran Phu and Hai Bai Trung
3. Xi Ma (Black Sesame Sweet Pudding)
The locals call it xi ma (pronounced: see-MAH), but I know it as che me den. My mom made this a handful of times when I was a child, so I was already familiar with the taste. It may look unappetizing like dark gruel, but it's actually a black sesame pudding that's very warm, nutty and smooth. Xi ma is made with ground black sesame seeds, mixed with raw sugar, rau ma and local well water.
The place we went to has been operating for over 70 years using their own secret family recipe. It's owned and operated by the daughter of 100-year-old Mr. Ngo Thieu, a living legend of Hoi An. He's no longer able to run the business himself at his age, so his daughter is carrying on the tradition. They make just enough to sell out every day, so be sure to get there earlier rather than later.
Price: 5.000 vnd (~$0.25 cents a small bowl)
Location: Nguyen Truong To Street near Hoi An Centre for Orphans and Disabled Children from 7am each day
4. Banh Xeo (Crispy Savory Crepes), Tom Cha Gio (Shrimp Spring Rolls), Thit Nuong (Grilled Pork), Nem Nuong (Pork Satay)
Ba Le Well Restaurant is a popular spot for both Hoi An locals and tourists alike. The menu is set and for 80.000 – 100.000 (~$4 to $5) per person for a hands on wrap-your-own rolls experience. This gets you a plate of banh xeo stuffed with bean sprouts and shrimp, shrimp spring rolls, grilled pork and pork satay, along with fresh herbs, pickled vegetables, rice paper and dipping sauce. The vegetables and herbs are all sourced from Tra Que Vegetable Village.
The shrimp spring rolls and pork skewers are eaten in the same style as a roll. The meal ends nicely with a mango flavored flan for dessert called kem flan xoai. This place is a great value and should not be missed.
Price: 80.000 – 100.000 vnd (~$4 to $5) per person for set menu
Location: 45/11 Tran Hung Dao Street
5. Banh Mi Cha Chien (Pork Toasts)
I wish I took a photo of the old lady selling this street snack because at first – and even second glance, you would never think she was even selling anything. There was no advertisement, just a lady carrying two metal buckets filled with fried pork bread. The ground pork is seasoned Vietnamese style with salt, sugar and garlic then turned into a paste and fried to perfection. I grew up eating shrimp toasts called banh mi tom chien, which are very similar to banh mi cha chien, so it was not only a tasty treat but a nostalgic experience for me.
Price: 7.000 vnd (~$0.30)
Location: Find a lady carrying around two metal buckets and ask if she's selling banh mi cha chien (pronounced: banh-mee-cha-chi-ing).
6. White Rose (Banh Bao Banh Vac)
It takes three years to become an expert at making banh bao and banh vac, two types of shrimp dumplings made from translucent white dough bunched up to look like a rose. White rose dumplings have become ubiquitous symbols of food in this ancient town. There is only one family in Hoi An that produces these dumplings and distributes them to all the local eateries.
Price: 90.000 vnd (~$4 to $5) per person for plate
Location: 533 Hai Ba Trung Street
7. Che Bap (Sweet Corn Soup)
I've loved this dessert since I was a kid and the texture is fun to eat. Che bap is a sweet and sticky dessert made with shaved kernels of corn sourced from the village and sweet glutinous rice. It can be enjoyed at warm, cold or at room temperature.
Price: 5.000 vnd ($0.25)
Location: You can find all three items at Ba Gia Restaurant, Nguyen Tri Phuong Street
8. Hen Xuc Banh Trang (Minced Clams)
Clams are fished from Hoai River, which runs through Cam Nam village, to make this special dish (photo above). The clams are boiled and then fried with herbs, onions, spring onions, chili, ginger and peanuts. The clams were tiny, fresh, and meaty. The herbs were fragrant and added in an extra depth of flavor. It was one of my favorite dishes in Hoi An.